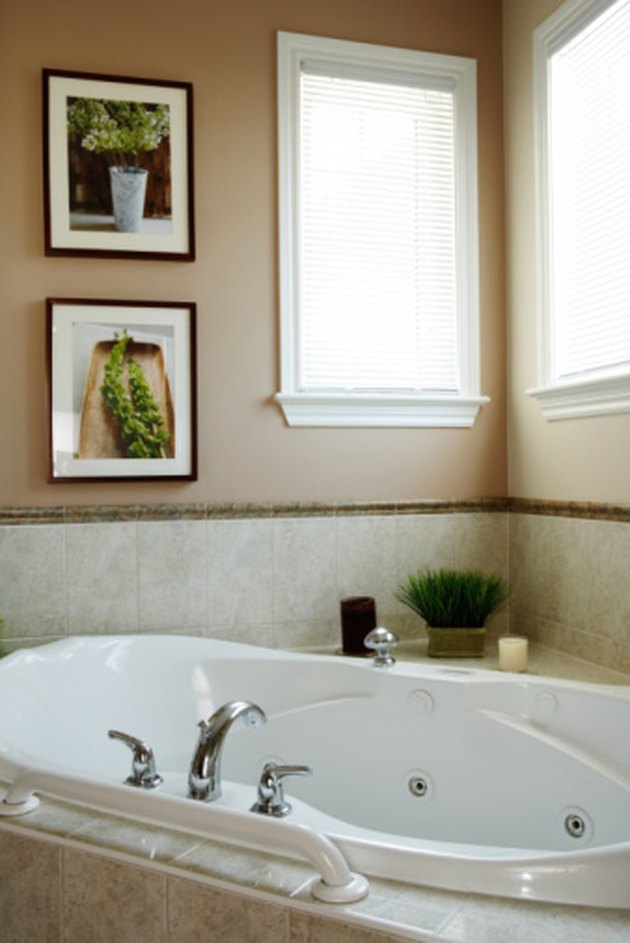 A whirlpool bathtub is a self-contained jetted tub. The main purpose of a whirlpool tub is to relax and massage your tired muscles. You have different options -- from features to sizes -- when it comes to choosing a whirlpool tub that's right for you.
Types of Whirlpool Tubs
The two types of whirlpool tubs are air jet tubs and water jet tubs. Although they function in different ways, both kinds of tubs serve the same purpose -- to massage the user for a relaxing experience. An air jet tub has dozens of small jets which warm air through and create air bubbles. A water jet tub has fewer but larger jets which water moves from at high speeds. You can swivel the jets in different directions to target your body's different muscle groups.
Size
Whirpool tubs are available in a wide range of sizes and shapes. Whether you choose an oval, round, triangle or hourglass shape, the first thing you have to consider when choosing a whirpool bathtub is the available space in your bathroom. Bathrooms that can accommodate a regular-sized tub, of which the standard size is 2 1/2-by-5 feet, should be able to accommodate a whirlpool tub. A standard whirlpool tub is the same size as a standard-sized bathtub. Larger whirlpool tubs can be as large as 6-by-5 feet and accommodate more than one person.
Configuration
Configuration, or the way that the whirlpool tub orientates in your bathroom, should be a consideration when choosing a tub. If you don't have a spacious bathroom, it's best to choose a single-person, freestanding, standard-sized tub. You can remove your old tub so that the whirlpool tub can fit in this space. You have more choices if you have a larger bathroom, such as a corner unit whirlpool bathtub or a drop-in whirlpool bathtub, which are designed to be used in a tub deck.
Materials
Most whirlpool tubs are made of acrylic, cast iron and fiberglass. Cast iron whirlpool tubs have a tendency to rust but since they're resistant to chemicals, chipping, scratching, and denting, they're also the most expensive tubs. Acrylic tubs have a natural glossy finish, are lightweight and easy to clean. However, they scratch easily and can discolor over time.
Although more prone to scratches and fading, fiberglass tubs, which have a matte finish, are lightweight and easy to repair and to install. It's less durable than acrylic and cast iron and is the least expensive compared to the other materials.
---
Veronica Romualdez has over 10 years of writing experience, which includes thousands of articles that have been published online as well as marketing copy for online stores. She's written e-learning/training material and technical and instructional manuals. She holds a Bachelor of Arts in communication and completed a course in interior design.