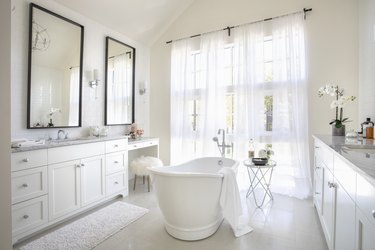 For some people, there is nothing better than slipping into a hot bath at the end of a long day and soaking away all the stress and tension. In fact, many homeowners remodel their bathrooms with the notion of creating a sanctuary or spa-like environment. Choosing the right tub adds to the relaxation experience. If your choice comes down to a garden tub or a whirlpool tub, learn the pros and cons of each to decide which will be best for you.
Garden Tub
Garden tubs are perfect for those who want a relaxing soak without complications. These tubs hold large amounts of water and are good for bathing, but they don't provide a shower head. Standard garden tubs are 42 inches wide, 60 inches long and 24 inches deep, making it possible to immerse your knees and your chest at the same time -- a standard by which many people rate a bathtub. Garden tubs are deeper than traditional bathtubs, and generally have curved or arched sides that follow the contours of the body, allowing bathers to fit comfortably inside the tub. Many have contoured armrests or built-in head and neck support. These tubs can be freestanding or built into the bathroom with a shelf surround designed to hold bath products, towels or decorative items.
Easy to clean
Less expensive than a whirlpool tub

Requires no electricity

Can be used with bath salts and oils.

Likely to increase your water bill
Offers no massage benefits.

Whirlpool Tub
Whirlpool tubs are essentially garden tubs with water or air jets and pumps added to massage bathers and create air bubbles. Whirlpool tubs require electrical hookups as well as plumbing, but often have additional features such as underwater lighting to create a soothing environment. The standard size of a whirlpool tub is 30 inches by 60 inches, but they are also available in an 80-inch-by-60-inch configuration.
Massaging water jets
Often increases the value of the home
More features are available.

Likely to increase your water and electricity bill
More expensive than a soaking tub
Jets need cleaning in addition to the tub
May not be compatible with bath oils and salts.
Other Considerations
When considering a soaking or whirlpool tub, there are some important issues that apply to both. Because they hold so much water, both types of tubs will drain your hot water heater. If your home uses a lot of hot water already, you may want to consider adding a second hot water heater along with your new tub. You also need to consider how you are going to get a large tub into your bathroom. Measure the doors and other relevant spaces in your home to make sure getting a large tub into your bathroom is an option. It's also important to have an engineer determine whether or not your bathroom floor can support the weight of a large tub when it is full. You may have to reinforce your bathroom flooring,