A master bathroom becomes a sanctuary when it is equipped with a garden tub. A garden tub is a bathtub that is more oval in shape than a standard bathtub. It can also be equipped with whirlpool jets. The garden tub has become a standard in the master bath of many newly built homes. Upgrading to a garden tub can be a valuable upgrade to your home.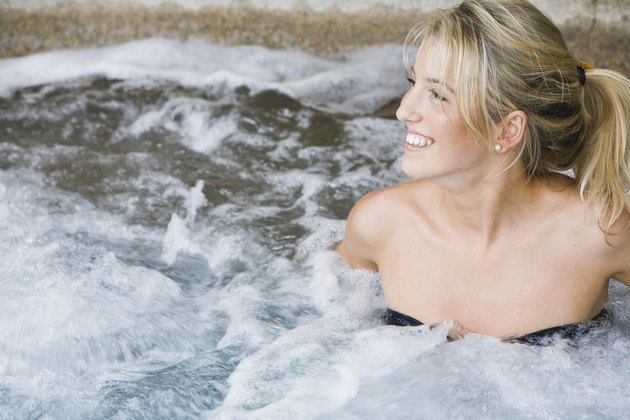 Garden tubs come in a wide variety of sizes, colors and materials, so there is not a true standard size of garden tub. There are, however, sizes that are common. A garden tub that is 42-by-60-by-24 inches is a common size for an oval-shaped garden tub. Tubs that measure 60-by-60 inches are available for those wanting round tubs.
Where you plan to place your tub will determine the shape you use. Garden tubs fit nicely into the space of a standard bathtub and are ideal for a retrofit. Recessed or corner tubs are budget- and space-friendly choices.
Common Garden Tub Materials
Acrylic, cultured marble and fiberglass are common garden tub materials, and a wide variety of sizes and styles are available in each. Acrylic is resistant to abrasion and is lightweight. Be sure the tub is well-insulated to retain heat. Cultured marble tubs offer a sleek look, but are more expensive and require more maintenance. A fiberglass garden tub is economical, but does not retain heat for very long.
A bathtub is a long-term investment. Be sure to choose your tub wisely to maximize the value of your purchase. Install a tub that is compliant with the ADA, or Americans with Disabilities Act, if you have an elderly or disabled family member. Lie in your tub to make sure it is comfortable before you purchase it. Make sure the pipes and hot water heater in your house are adequate for filling a large garden tub.