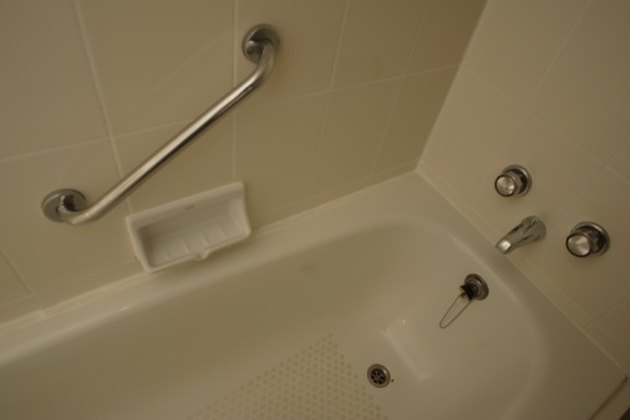 If you're planning the design or renovation of a bathroom space, you must start with the basics. Your goal is to plan the use of bathroom floor space to accommodate standard bathtub measurements and allow sufficient space for the sink and toilet fixtures.
Length and Width
The width of the bathtub is a standard 30 inches wide. If the tub is located in a standard 60 in.-by-108 in. bathroom (or 5 ft.-by-9 ft.), the tub's length will be the same as the width of the bathroom, which is 60 inches.
Height
The bathtub will be somewhere between 14 inches and 17 inches in height. (See Reference 2, page 81) If you are going to design this bathroom to provide for easy transfer of a person with a physical disability, consider creating a walk-in shower with a ledge over which a wheelchair can roll instead of a tub.
Check Local Building Codes
It is important to check local building codes before you plan the bathroom. There will be a maximum distance (i.e. number of inches) permitted between plumbing fixtures, according to Leon A. Frechette, author of "Remodeling a Bathroom." You will probably plan the bathtub position at the far end of the bathroom, opposite the bathroom door.
Space Adjacent to the Bathtub
Once you have planned how much space will be needed to install the tub fixture, or to build a tub, you should plan space next to the tub for a person to dry off. For example, you might add a space of 30 inches by 60 inches for this purpose. If the bathtub is immediately next to the toilet, it should be spaced at least 16 inches from the center-line of the toilet. You can also build a 60-in.-wide platform next to the tub to make it easier for bathers to get in and out.
---
Audra Bianca has been writing professionally since 2007, with her work covering a variety of subjects and appearing on various websites. Her favorite audiences to write for are small-business owners and job searchers. She holds a Bachelor of Arts in history and a Master of Public Administration from a Florida public university.