Relaxation is the purpose of most massages. Therefore, massage rooms must offer a relaxing atmosphere. Everything from the color of paint on the walls to the decor can alter the overall feel of the room. Scents and other elements can also be used to gear the mood of the massage room.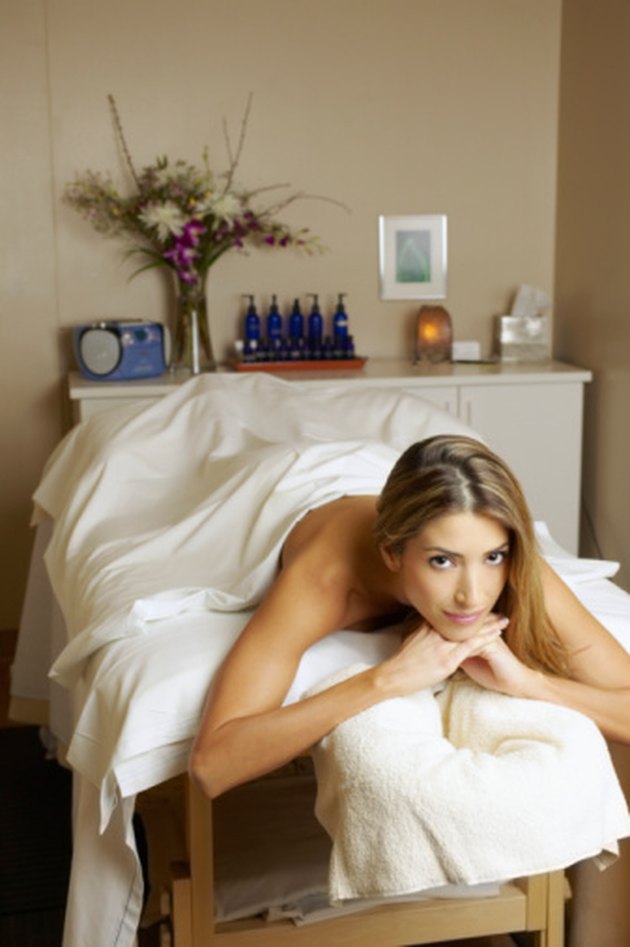 The wall colors in a massage room are one of the most important factors when setting a relaxing atmosphere. Certain colors are better for relaxation than others. Subtle colors are among the best. Shades of blue, such as sky blue, are always a good option. Green is another shade that promotes relaxation, particularly in lighter shades. Other colors you might select are deep purples.
Massage Table and Other Furniture
Always place the massage table in the center of the room. Allow adequate walking space around the table. Placing a shelf or cabinet within close reach of the massage table will offer easy access to towels, lotions and so on. A comfortable chair or bench may also be added to the room to provide seating.
Adding certain scents to a room adds to the relaxing atmosphere. Eucalyptus helps relieve muscle tension but also can help boost the immune system. Lavender is a relaxing scent as well, but it is also an uplifting scent. Chamomile is especially good for anxiety and sleeplessness. These scents can be added to the room in various ways. Scented candles may be used; room or linen sprays and essential oil warmers are all good options to fill the room with the chosen scent.
In addition to the essential room elements, personalized decoration may be added to the room. For a professional massage therapist, certificates or licenses may be hung on the walls. Plants and flowers may be placed in corners or on tables if room permits. Inspirational quotes or religious verses may be added either framed to be hung or placed around the room, or vinyl lettering may be used to place these directly to free wall space. Some individuals even add figurines or trinkets to the room that they associate with peace or protection. Basically anything goes that inspires or relaxes an individual, but stay away from cluttering up the room with too many decorations.