Galvanized metal accents can be added to your bathroom for a variety of different looks. Whether you wish to add a rustic, modern or industrial touch to your bathroom design, many options are available. Introduce a galvanized element meant for a bathroom application or get creative and use items in a different way, Vintage pieces and new pieces alike can be used to elevate the style of the room.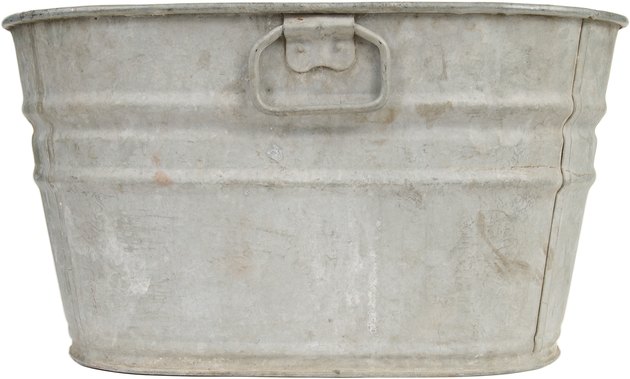 Whether you choose to include a full-size galvanized tub for bathing or scale it down, galvanized tubs can be included in a variety of ways. For instance, use a galvanized tub to hold rolled-up bath towels, face cloths or bath products. Look for a vintage galvanized tub and plant ferns or other plants in it. Examine the tub for holes and use a liner or plant the pots individually if holes are present. To finish the planter, cover the pots with moss.
Use flat sheets of galvanized metal to create a series of shelves for the bathroom. One place you can add this type of shelf is beneath the mirror above the vanity. Use decorative brackets to soften the look of the metal. Add a wider shelf to hold towels or bath products. Or dress up outdated cabinetry with panels of galvanized metal cut to the size of the doors. For an industrial look, use chunky hardware to install the panels. Dress the galvanized units further with decorative slats of wood placed across the metal.
Backsplash or Shower Enclosure
Design a galvanized metal backsplash to fit between the vanity and the mirror. Add smaller accents throughout the bathroom to unify the look. Another idea is to install a sheet of corrugated, galvanized metal inside the shower or bath enclosure. Treat the metal with a sealant to prevent water damage. Soften the metal accents with other materials such as wood floors, potted plants, sheer curtains and jolts of bright color in the towels or shower curtain.
Small galvanized plant pots can be used to hold a collection of cacti, cotton balls, face cloths or extra bars of soap. Look for lighting with galvanized accents or create your own candle sconces with scrap pieces of metal. Other ideas include a galvanized mirror, picture frames, trays and cake pedestals. Create a display of candles on a galvanized cake stand or tray and include items like seashells and starfish. For a different look, use both the tray and the pedestal for layers of candles. Display them on a curvy side table next to the bathtub for ambient lighting.