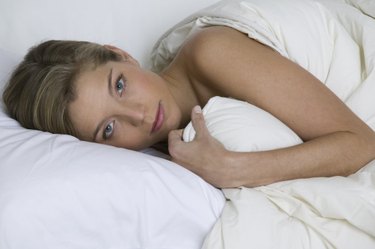 Look for a comforter for your bed that will aid your sleep, not cause an allergic reaction or tear the first time you pull it up toward you a bit roughly. Price differences might influence your decision, but some comforter alternatives don't hinge too much on that when only a few dollars separate the two.
Appearance
Gel fiber comforters, such as the Karessa Deluxe Duvet by Northern Feather, are made to look and perform like down comforters. The Anna and Kristina Test Lab compared Northern Fiber's gel-filled comforter and found its appearance and performance mimics that of down. Polyester-filled comforters are considered an alternative to down. Good Housekeeping did a test, too, comparing down alternative comforters to see how they stand up in comparison to down. One product -- Cuddledown's Damask Stripe synthetic comforter -- had a great appearance after being put through a washing, but it sported a pretty damask weave look instead of the typical down comforter color of solid white.
Fill and Heat Retention
Gel-filled comforters can contain anti-bacterial and anti-microbial gel fibers. Gel fiber technology provides comforter users with the same light and fluffy feel of down, along with the same warmth capability due to its good heat retention. In fact, according to five comforters tested by the Anna and Kristina Test Lab -- and one was a polyester -- the gel fiber comforter performed the best for retaining heat. The polyester product tested ranked fourth.
Thread Count and Fabric Strength
Thread count should be 220 or greater, and the comforter fabric should be box-stitched instead of channel-stitched to prevent your polyester or gel fiber from congregating in a lump on one end of the comforter during washing or use. As an example, Good Housekeeping's top pick for a down comforter alternative -- Cuddledowns -- didn't stand up well with regard to strength of fabric, with the possibility of tearing with wear. But Karessa's Northern Feather gel-filled comforter boasted a 400 thread count and double stitching.
Cost
Expect to pay approximately $145 for a twin-sized gel comforter and as much as $275 for a super king-sized one. A polyester comforter costs about $140 for a twin size and $220 for king-sized. That's not a big difference, so choose the comforter based on other factors.