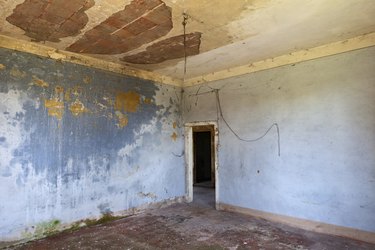 You can't avoid the ceiling forever. At some point, that dingy, cobwebby expanse of overhead real estate needs a fresh coat of paint. You have more choices than ever for selecting a paint to make your job easier and give you the pristine, professional-looking ceiling of your dreams. Take into consideration the condition of the ceiling, the material that covers it, and your room's decor when selecting the right paint.
Ceiling Choices
Paint the ceiling first when tackling a room. Any random drips or spatters are easily covered by the subsequent wall painting, and working on the ceiling first means you don't have to be as careful with taping edges. Most people default to a white, linen or light color ceiling, but other options give you varied results. A deeper ceiling color than the walls makes a high-ceilinged room feel more intimate. Ceiling paint that matches or closely mirrors wall color expands a low-ceilinged room. Latex or water-based paint is easy to apply and clean up, but don't rule out glazes. Tinted glaze, metallics and pearlized glazes can transform the space below, or emphasize a formal or period decor.
Not Just Another Wall Paint
Ceiling paint is usually flat -- the matte finish hides imperfections, won't reflect glare from lights, and doesn't need scrubbing as does wall paint in busy areas. Flat paint is water resistant enough so it can replace the medium gloss or eggshell choices painters used to recommend for bathroom and kitchen ceilings. Paint designated for ceilings may be thicker than typical wall paints to cover completely in one coat. And some manufacturers make ceiling paint that appears slightly tinted when wet -- you can easily see if you missed a spot -- but dries white or pale. Low- and no-VOC paints feature one-coat coverage now so you can use those thicker, opaque paints successfully on your ceiling.
DIY Sistine Chapel
If you hunger for more than simple shelter, elevate your ceiling to exalted heights with a hand-painted design. It doesn't take a Michelangelo to cover a light blue ceiling with puffy white clouds or to apply an all-over stencil pattern. Whether you design a pictorial mural or yearn for a night sky of constellations overhead, start with matte water-based paint for your background color. Then use ordinary hobby paints to stencil or paint your design. Acrylic hobby paints come in small containers, an infinite variety of colors, metallics and shines, and are thick-enough consistency to cover an area with one coat. You don't want to spend weeks on your back on a scaffold, or a fortune on custom color quarts of regular ceiling paint. Hobby paint decorates your ceiling inexpensively, and you can paint right over it when you trade the hand-painted vibe for spare minimalist decor.
Pass the Popcorn
When you decide to paint the popcorn ceiling rather than replace it, get the paint and method right for best results. A new, unpainted textured or popcorn ceiling gets a coat of oil-based primer to stabilize it and prevent any bleed-through from stained drywall. After applying a protective primer, or for an already-painted popcorn ceiling, finish the new paint job with flat latex. Use a paint sprayer to avoid dislodging particles of the ceiling with the pressure from a roller or soaking the texture compound so clumps of it fall off.
---
Benna Crawford has been a journalist and New York-based writer since 1997. Her work has appeared in USA Today, the San Francisco Chronicle, The New York Times, and in professional journals and trade publications. Crawford has a degree in theater, is a certified Prana Yoga instructor, and writes about fitness, performing and decorative arts, culture, sports, business and education .