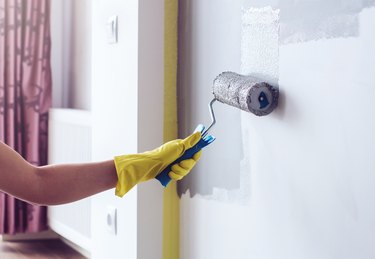 Painting a room can change up the entire aesthetic, or simply be a quick fix to make the room look fresh and inviting. But there are many sheens to choose from, which can be confusing. There are low cost paints, which can offer a quick fix to a dull interior, or more expensive paints, which may not do all that is expected from a gallon of liquid color.
The two most basic paint sheens are eggshell and flat. Knowing the difference, and which rooms work best for each, can save some time and labor when painting the interior spaces of your home.
Ceiling Paint Sheen
The sheen of a paint is decided by its gloss factor. It is obtained by adding resin to the paint. Resin is a binder that solidifies after it dries. The more resin that is added to the paint, the higher the gloss level.
There are two extremes of ceiling paint sheen: eggshell and flat. Eggshell has more gloss than flat paint. And the higher the gloss, the easier it is to clean.
Flat paint has a gloss percentage of 1 to 9 percent. Eggshell, on the other hand, is 26 to 40 percent gloss. Between those two is a low sheen that is 10 to 25 percent gloss.
Paint Tips for Finding the Right Sheen
Choosing the right shade and sheen requires a bit of playing with paint. There is no true standard for the amount of sheen that is in paints, so each paint brand has a slightly different sheen level.
You may want to try different brands on the wall before committing. Paint samples are sold in small batches so that you can roll on a sample to see how it looks in your space. Brush it on your walls or ceiling, and see how it looks in both the morning light and at night to find the right shade for your room.
Ceiling Paint Finish Points
The ceiling paint finish seems like an innocuous part of a home's décor. However, the finish can elevate the living space's appeal. When it comes to the best paint for ceilings, flat or satin is the way to go, although it can depend on the type of ceiling surface.
Ceiling paint should be durable enough to not peel or crack and cover any old stains. Flat latex paint is usually the preferred paint for textured ceilings. If the ceiling is not textured, or not covered in what is known in the industry as "a layer of popcorn," then an eggshell or satin paint can add a glossy sheen to the uniform surface of the ceiling.
Pros and Cons of Eggshell Paint
The slight sheen of eggshell paint is ideal for many reasons. It is easier to clean than flat paint. This makes it ideal for bathrooms and kitchens. It has a low sheen, so it is just above a flat finish in gloss, but not so shiny that it is distracting or difficult to roll on.
Eggshell paint can be rubbed off if permanent marker soaks through to the drywall. It marks easily and can be difficult to thoroughly clean.
Pros and Cons of Flat Paint
A flat finish paint reflects little light and works well as a ceiling paint finish. This makes it ideal for concealing imperfections, such as old water stains or divots in drywall.
Unfortunately, flat paint shows every scuff and collision with the wall. Therefore, it is better when used in low-traffic areas because it doesn't hold up well to hands and errant bumps from feet, furniture and more that occurs in high traffic areas.