The type of paint you choose for the kitchen ceiling matters: A paint that's too shiny shows every flaw, while a paint that's too flat is harder to clean. A good look at the ceiling's condition before you buy paint can help determine the best sheen for the space. Whether you choose a ceiling-specific paint or a general interior paint, latex is a great option as it dries quickly, washes off the brushes easily and emits little odor compared to oil-based paint.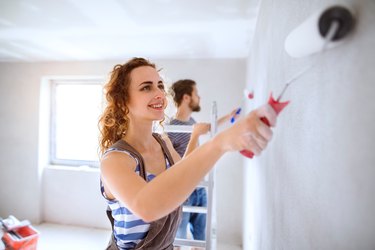 Ceiling Paint Perks
Latex or any water-based paint specifically formulated for ceilings is an excellent choice for the kitchen. Although interior or wall paints work just as well, ceiling paint's formulation drips less and dries faster. It also spatters less than other interior paints. Most ceiling paints have a flat or matte sheen, designed to help hide flaws. Ceiling paint can also be less expensive than some premium interior wall paints. Some ceiling paints are sold only in white, so ask a store representative if the shop carries a tintable ceiling paint if you prefer another color.
For a kitchen ceiling that seems grungy even after a thorough cleaning, a stain-blocking, all-in-one ceiling primer and paint provides a fresh new coating that hides hard-to-remove spots.
Interior Water-Based Paints
Interior water-based paints, such as latex or latex enamel, also work well on a kitchen ceiling. As an added perk, numerous color and sheen options are available, which comes in handy if you don't want a matte white kitchen ceiling or if you want to match ceiling and wall colors. Both ceiling and wall paints may be applied by brush, roller or sprayer.
Choosing the Perfect Sheen
When it comes to paint sheen, or its ability to reflect light, flat paint is the least reflective. High-gloss is the most reflective, looking shiny when lots of light hits it. The shinier the paint, the more washable it is and the more it shows every little imperfection. In many rooms, a flat or matte paint is perfect for the ceiling because this surface doesn't require frequent washing. If the kitchen ceiling seems greasy from spatters above the stove area, a more washable paint is best.
Choose an eggshell finish, which is about as shiny as an actual eggshell, for a more durable coating that doesn't shine much. A satin or semi-gloss paint is even easier to clean, but will show off a lot of the ceiling's flaws. If your ceiling is perfectly smooth, satin or semi-gloss are suitable options. For a popcorn ceiling or a surface with numerous dips or flaws, a matte ceiling or wall paint is a great choice. Look for a washable water-based paint. If washable, it will say so on the can.