Large rooms are useful for hosting a large meeting but are not as useful when you have small teams of people that need to work on different projects. Temporary partitions section off a large rooms into smaller areas and are often purchased at a furniture store or office supply shop. However, commercially produced temporary partitions are costly and may not fit into your budget. Save money by making your own handmade partitions using a few basic craft materials.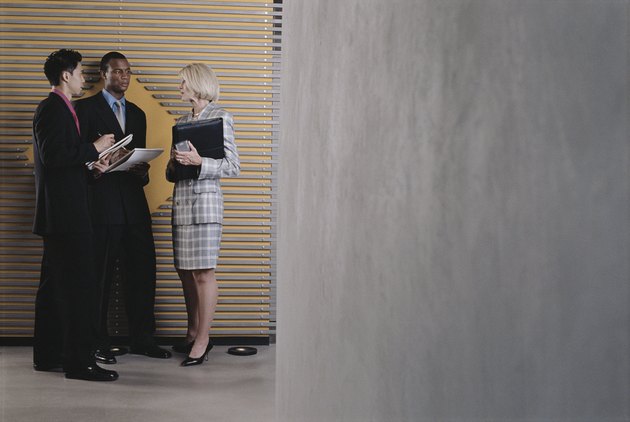 credit:
Polka Dot Images/Polka Dot/Getty Images
Step 1
Lay a wood-framed door screen flat onto a table top. Place a second screen next to the first with two of the long sides touching. Line up the edges.
Step 2
Attach three brass hinges onto the touching edges, spacing the hinges out evenly.
Step 3
Fill a bowl with 4 cups of flour, 2 cups of salt and 4 cups of water. Stir the mixture with a spoon for two minutes to combine the ingredients completely.
Step 4
Cut newspaper into strips that measure 3 inches wide, 8 inches long. Dip the strips one at a time into the paper mache flour mixture and then drape the coated strips over the screens. Do not cover the hinges. Cover the screens with four layers of paper mache, both front and back. Allow the screens to air dry for six hours.
Step 5
Paint the handmade wall partitions using latex wall paint. Use a single color or use multiple colors to create a pattern or picture. Allow the paint to dry for one hour.