In a one wall kitchen, the kitchen work zones are in a row along a single wall. Refrigerator, sink, countertops, range and dishwasher follow one right after the other with cabinetry above and below. While it can be convenient to have all the work zones so close together, this type of kitchen has some definite disadvantages when it comes to function and value.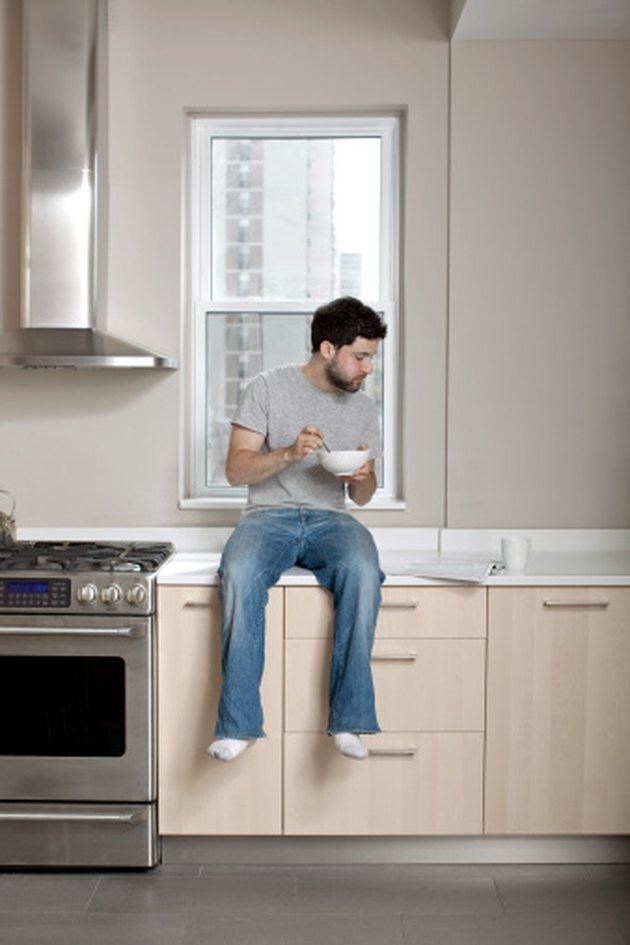 When all the work zones of a kitchen are against one wall, usable counter space is limited. Such a kitchen may have several feet of countertop, but the countertop is often broken up by the sink, refrigerator or other appliances, which can make food and meal preparation difficult. Activities, such as baking, may need to take place on work surfaces that are not adjacent, which can make it harder to follow the necessary steps of a recipe. One way to increase the counter space is to purchase compact appliances. If you install a 24-inch range instead of a standard 30-inch range, you can gain extra inches of useful space.
Difficult to Contain Clutter
If your kitchen space is limited to a single wall, a great deal of clutter is visible. Small appliances, such as toasters, electric can openers and coffeemakers, can crowd the space and make the kitchen appear even smaller. To combat this, use every inch of space in the kitchen as effectively as you can. Install cabinets that reach to the ceiling, placing items you don't use as often in the top, harder-to-reach shelves. Store bulk items, such as flour, sugar and cereal in stackable containers that will easily fit on your shelves. In your lower cabinets, use pullouts, pan drawers and door storage racks to increase available space.
In kitchen design, the trend is toward kitchens that allow for sociability by making it possible for people to work together in the kitchen or have guests chat with the cook while dinner is prepared. When all work surfaces are against a wall, the host is often working with his back to the guests, which makes it difficult to interact. If guests are in the kitchen leaning against the counter, they can inadvertently be made to feel as though they are in the way if they are constantly asked to move so the host can access a drawer for a needed cooking utensil. If there is space to install a small island with chairs in the middle of the kitchen, that can have benefits. Not only will the island increase work space, it also will give guests a place to stand in the kitchen that's not in the way.
Negative Impact on Home's Value
When people are looking for a home, they usually want the kitchen in their new home to exhibit some of the latest trends in kitchen design, such as large islands, prep stations, eating bars, lots of storage space and a sense of spaciousness. Since one-wall kitchens rarely have the amenities and layout home buyers are looking for, a house with a one-wall kitchen can be a hard sell. If you're trying to sell a home with a one-wall kitchen, do what you can to make it look as open and attractive as possible to allow a possible buyer to see not only its functionality, but also the inherent possibilities of the space for future remodeling.