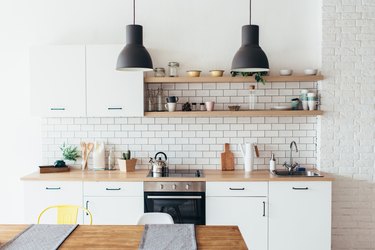 It's often the heart of the home — or at least a space that receives a lot of attention morning, noon and night. The kitchen is typically an important design space for homeowners. When a kitchen has all of its appliances lined along one main wall, it can be difficult to work in.
The one wall kitchen is a classic design layout. It may have its limitations, but they have been addressed for generations. Take advantage of those who worked with what they had in these narrow spaces or expanded on the one wall kitchen design.
Single Wall Kitchen Dimensions
The single wall kitchen dimensions tend to be narrow and lacking in countertop space. The counter for a one wall kitchen tends to be less than 8-feet long. This lack of counter space allows for all of the other things needed to make a kitchen workable. A one wall kitchen design typically has the major appliances, such as refrigerator and oven or stove, along with the sink and dishwasher crowded on one end of the countertop.
Typically, the work zones are aligned on one wall, making for a crowded and inconvenient space for creating meals or simply serving up single dishes for family or guests. A one wall kitchen design is ideal for narrow spaces, but it can have its limitations.
Galley Kitchen Advantages and Disadvantages
The pros and cons of a galley kitchen are numerous with a little imagination and the right approach to the narrow space. Although everything is close at hand and in reach, there often isn't a lot of room to move around or entertain guests. This can be used to your advantage, or disadvantage, depending on how you hope to use the space.
When organized well, a galley kitchen can offer more time to socialize because you aren't wandering around a roomy kitchen creating salads, hot dishes, appetizers and drinks. A galley kitchen requires you to be efficient with your ingredients, appliances and use of space.
The usable counter space of a one wall kitchen or galley kitchen is limited when all of the work spaces are stacked on one side of the room. Although it may have several expanses of countertop, the flat surfaces tend to be broken up by the major and minor appliances that kitchens have.
Social Disadvantages of a One Wall Kitchen
It's not just the inconvenience of cooking and organizing that makes a one wall kitchen a difficult space. This makes it difficult for the host to turn and pay any serious attention to the guests that have gathered for a social event.
When guests gather, it can be awkward for the host to adequately serve, socialize and pull off a successful event. Rearranging the makeup of the kitchen with a portable island, sideboard or buffet along the sides of the kitchen can open up the space.
When counterspace rims the back wall and side it creates a g-shaped kitchen layout, which has advantages and disadvantages. It offers more counterspace and areas to gather in the kitchen for guests, but still lacks the space for serious chefs. There are a few ways to maximize a kitchen with all of its major areas along one wall or around the sides.
How to Increase Space in a Small Kitchen
Every space in your home can use a little reorganizing to utilize the area. From the counterspace to the tops of the kitchen cabinets, there are ways to expand the beauty and usable space in a small kitchen.
To expand counterspace, look for cutting boards that fit snugly into the kitchen drawers when they are pulled out. Cutting boards for kitchen sinks are created in all shapes and sizes to give a few more precious inches of counter space.
Another way to save kitchen space is by hanging cutting boards, cups, knives and other large utensils from hooks on the inside of cabinets to open up space in the cabinet and on the countertop. You could also create an island out of an old dresser that can be pushed to the side when not needed. One more tip: a tension rod under the kitchen sink can neatly hold cleaners and extra hand towels.
Resale Value of a Galley Kitchen
Generally home buyers who are on the hunt look at the kitchen space as a make-or-break commodity. If it is truly small, it can turn potential buyers off of an otherwise charming abode. If you have a small kitchen, it can still be a showplace and selling point with the right type of upgrades and styling.
If the kitchen has plain backsplashes, consider a quick fix with a glass or tile backsplash. These can be added to a small kitchen in a weekend by the average do-it-yourself handy person. A backsplash installation can also be an affordable upgrade if you need to hire a contractor to complete the job.
Clean off the countertops of all small appliances and allow the potential buyer to get a sense of what they can do with this cozy heart of the home. Clear off the walls of hangings, pots and pans or anything else that can limit the potential buyer's vision for possible remodeling of the space.
Color Options for Small Kitchens
The walls, cabinets and appliance fronts can bring down the feel of a small kitchen space. A fresh coat of paint in neutral colors can create an open style that is able to accept any décor a potential buyer may be dreaming of.
If the cabinets are dark, scuffed or damaged, they should be shined up and repaired. Tone down a dark kitchen by painting the cabinets a shade lighter or sanding off the veneer and re-staining the doors. Fill any deep gouges, nicks and pits with wood filler and sand down before repainting.
How to Increase Counterspace
Real estate above and around the major kitchen appliances is a hot commodity. Store small appliances, such as toasters, blenders or those countertop machines that are used only on occasion, in the empty space above the kitchen cabinets, over the refrigerator or in the cabinets if there is room. Remove large pots of kitchen tools or towers of cups.
Consider buying a smaller oven or refrigerator. This can open up the space while allowing you all you need in the two major kitchen appliances. A 24-inch range over a standard 30-inch range can make a significant difference in the look and feel of a narrow kitchen.
If you have a countertop microwave, consider installing a built-in and losing half of a full-length cupboard or the space over the range. These come in small sizes that work well with smaller kitchen areas.