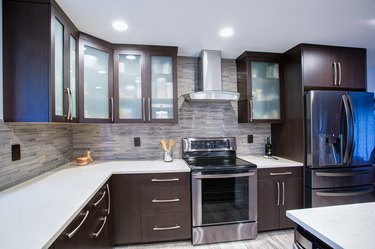 Depending on where your kitchen is located and the style of your home, a 7-foot-by-12-foot kitchen lends itself to a variety of different designs. When determining what design style you'd like, consider how you'd like to use your kitchen.
The Five Types of Kitchen Layouts
There are five basic layouts for a kitchen: U, G, L, single and galley. Each design is determined by how the counters are laid out.
A U-shaped, or horseshoe, kitchen is often considered the best option for both large and small kitchens. In a large kitchen, a U-shape can give the cook a variety of spaces to work, and in a small kitchen, this shape allows for a lot of storage.
A G-shaped, or peninsula, kitchen is similar to a U-shaped kitchen, but with one extra half side. Often, the fourth side is open to a dining area or family room and the counter is used as a casual dining area with bar stools tucked under the counter.
An L-shaped kitchen has counters along two perpendicular walls only. There's just one corner in an L-shaped kitchen, leaving the rest of the floor plan open. This is ideal for those who want to cook and chat with others at the same time.
Single and galley kitchens aren't often used for a 7-foot-by-12-foot space. In a single kitchen, all cabinets and appliances are against one wall, where a galley kitchen has cabinets and appliances running along two parallel walls.
The Work Triangle
Once you've decided on the shape of your kitchen, it's important to take the work triangle into strong consideration when deciding where to place cabinets and appliances.
A work triangle is created by the three most important workstations in your kitchen: the stove, sink and refrigerator. Placing these three items in a triangle shape provides the best flow when preparing meals.
Kitchen Islands
Depending on the shape of your kitchen, a kitchen island can be added to provide additional counter space. Islands don't have to be square or rectangular; you can create one in any shape or size you choose.
Because kitchen islands often become the focal point of the kitchen, many will take the opportunity to make it stand out by painting the base cabinets a bold color that complements the rest of the kitchen. Some even choose to use a different surface for the countertop, and many hang pendant lights or a pot rack above.
If you don't have the space for an island but like the concept for entertaining, consider a rolling counter that you can push to the side when not in use. Another option is to build a narrow counter without cabinets below that provides enough space for barstools and guests to place a drink and small plate.
Considerations for a 7 x 12 Kitchen Layout
Don't forget to include a pantry in your new design. Providing floor-to-ceiling shelves for food storage helps keep your counters clear for food prep. Think about your current pantry and family's food preferences to determine how much space you should allocate for your new pantry.
If your space feels too closed in, consider opening up a wall or expanding your kitchen to another area. Sometimes, removing upper cabinets can create a more open feel without having to make structural changes to your home.
Think carefully about the colors you choose to paint your kitchen cabinets. While you have a rainbow to choose from, dark upper cabinets may make your kitchen feel smaller than it is. If your heart is set on dark cabinets, consider them for the lower half only and paint the upper cabinets a lighter color or remove them altogether in exchange for open shelving.