Throughout history, architecture in America has been inspired from abroad. For example, Greek temples inspired plantation-style homes and European cathedrals inspired a gothic adaptation in home design. Even new, modern constructions look to the past for inspiration.
Greek Revival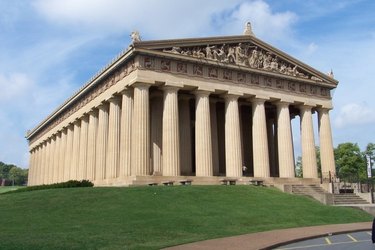 Greek Revival style is an adaptation of the classic Greek temple. Rows of symmetrically-arranged columns feature Doric, Ionic or Corinthian order. A full entablature is placed above the row of columns, and above this, a pediment roof. In homes featuring Greek Revival style, headers above front doors known as a transom were common, as well as corner lights on each side of the door. White-columned Southern plantation homes are the most common representation of the Greek Revival architecture style.
Egyptian Revival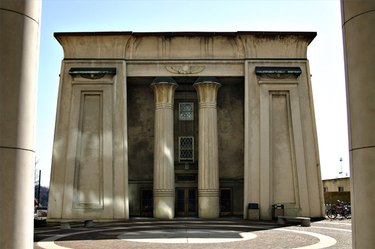 Inspired by ancient Egyptian architecture, Egyptian Revival constructions were built during the 1920s; however, this style was never used on a large scale. Some movie theaters, churches and prisons of the time used Egyptian Revival architecture. These structures, which have flat roofs and smooth-wall finishes, often have entrances that resemble gateways to Egyptian temples. Pillars feature lotus flower designs and symbols such as the vulture sun and disk are often placed above the entrance, along with an inscription of some sort.
Gothic Revival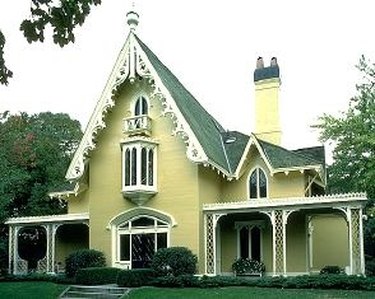 Popular in the mid 1830s, Gothic Revival form was used in constructing everything from cottages to churches to castles. Steeply-pitched roofs are characteristic of Gothic Revival style. Homes featuring this style commonly have gingerbread trim along the eaves. Stone castles in Gothic Revival style feature a carriage porch at the entrance of the structure as well as large, colored glass windows outlined with tracery.
Mission Style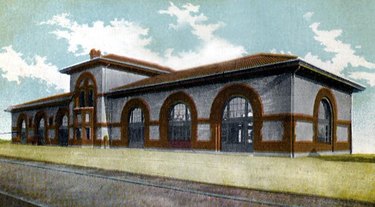 Simplicity of form is the main characteristic of Mission style architecture. Walls are made of stucco or plaster and roofs are constructed as rows of red tile which commonly extend further out than the walls. Rows of round arches supported by piers are another main identifying characteristic. Large buildings built in Mission style commonly feature towers and small balconies.
Art Deco
Characterized by an emphasis on vertical height, Art Deco buildings are characteristic of the 1930s. Geometric form is emphasized, as the facades of buildings are arranged with a series of "setbacks." Door and window openings feature low relief ornamentation commonly made from the same material as the rest of the exterior. Highlighted with stylized decoration; metals, colored-glaze bricks or mosaic tiles are often a part of Art Deco style constructions.
---
Pamela Gentry is an experienced writer specializing in original articles, blogs, product reviews and website copy. Her specialties include interior design, health and wellness and advertising. Gentry currently writes various types of content for Scripted, Writer Access, CopyPress, Get a Copywriter and Gated Publications.