When decorating your single wide mobile home, take into consideration the shape of the home. Typically, single wide mobile homes contain rooms and a long hallway. Use the shape of the mobile home to your advantage by decorating each room, including the hallway. Decorating a mobile home does not require special skills.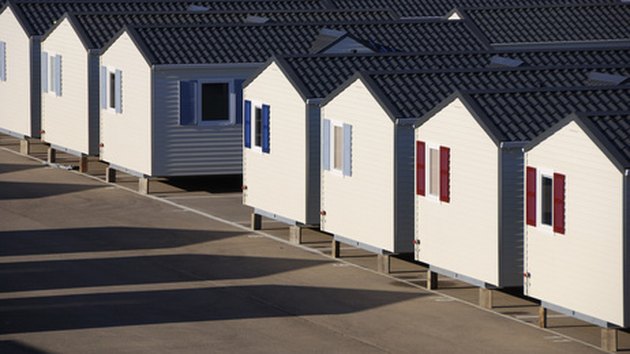 Older single wide mobile homes commonly feature wood paneling on the walls. Wood paneling makes the rooms inside the mobile home look and feel dark and small. To brighten up the rooms inside your single wide mobile home, paint the paneling a light color. If you want dark accent colors, use them sparingly as they can make the rooms look smaller. You do not have to fill the seams on the paneling, unless you want to. Decide whether you want to paint the paneled walls one solid color or use the seams to paint stripes on the paneling.
Decorate the landscaping around your single wide mobile home. Adding decorative items to your lawn increases the curb appeal. Many times the landscape is forgotten about when a home is decorated. Plant flowers in the yard and create a rock garden. Incorporate lawn ornaments for an added decorative touch to your landscaping design.
When deciding on the window treatments for your mobile home, consider light fabrics. Heavy fabrics may cause condensation, which may mean you have to repair the windowsill. Hang blinds on the windows and a valance or sheer curtain over the blind. This allows the windows to breathe and decorates the windows in the room.
Create a focal point in every room in your mobile home. Focal points draw attention and add a conversation piece to the room. A centerpiece on the kitchen table or a piece of artwork in a living room can become a focal point. Replace the light fixtures and faucets in the mobile home to make them look less like traditional mobile home fixtures. Turn your hallway into an art gallery by hanging framed pictures. Select pictures from a family vacation or your personal family favorites and display them.