Your cozy duvet rests on top on the fitted sheet on your bed, and serves as both a top sheet and blanket for warm sleeping in the winter and cooler sleep temperatures in the summer. Duvets are a great alternative to standard comforters as they are easily washable and changeable to suit your evolving interior design preferences. Choosing the right fabric for your duvet cover—one that is breathable, washable and comfortable—is as important as the duvet itself.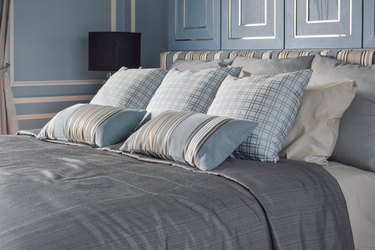 Fabrics to Avoid
Avoid upholstery-grade fabric. While the textures and designs of an upholstery fabric are an attractive and durable choice for sofas and blankets, they are a hassle for duvet covers. The material will not be as plush when encasing a duvet and the added weight to your bedding defeats the purpose of having a down comforter. Upholstery fabric is heavy, and takes longer to wash and dry in a standard machine—if it is even washable. Avoid heavy brocades, velvet and chenille fabric.
Percale Cotton
Percale cotton is a fine, lightweight blend with thread counts around 180 to 200. Percale has a soft lightness that it like muslin. It is durable and lasts for years. Additionally, it can be washed weekly for convenience. Covering a down comforter with a percale cotton duvet allows your body heat to transfer from the duvet back to you.
Pima, Supima and Egyptian Cotton
Pima cotton, Supima cotton and Egyptian cotton all have high thread counts between 200 and 300, making them super soft and cozy. These three blends are all long cotton staples, meaning they are made of extra-long fibers for added softness and durability. The downside to these options is that many manufacturers claim their cotton is Egyptian cotton, but it can often be fake. Supima cotton is a little bit stronger. It is ideal for sleepers who toss and turn a lot at night, adding extra wear to their cover.
Organic Cotton
Organic cotton and other natural fibers have the benefit of containing fewer allergens and chemical odors. Washing generally gets rid of chemical scents, and those with sensitive skin may find a breathable organic cotton immediately comforting after a single wash. Organic cotton that claims to be 100 percent should not be mixed with synthetic fibers.
Silk
As a luxury fabric, a silk duvet cover is elegant and also comfortable. It retains heat, but not enough that it is too hot for summertime use. Silk is also breathable, and the satin touch is hard to resist. But a silk duvet can be expensive to buy and maintain as it must be dry cleaned, and is easily stained and snagged. It also wrinkles easily, and has to be ironed.
Flannel
On a cold winter night, a flannel duvet cover will keep you warm and toasty. Flannel is a mix of wool and cotton, both soft and durable to last for years to come. It's wrinkle-free and machine washable, so it can go straight from the dryer to the bed after a wash. But for hot summer months, a flannel duvet cover can be uncomfortably warm. This can cause sweating and added moisture to your bed can damage your down comforter.
Blends
Choosing a mix of cotton and rayon or cotton and polyester is a cheaper option, and blends can be more wrinkle-resistant and durable. Picking a blend will save money in the short-term and may allow you to choose more than one cover to suit your changing décor. But blended fabrics may also be cheaply made and have the possibly of not lasting as long as other fabrics.
Find the Right Size
You might decide that the duvet cover of your dreams isn't available in stores. However, you have found the perfect fabric and have the DIY skills to sew your own cover. For the talented DIYer, this project is as easy as making a pillow case. Just be sure you have the correct measurements ahead of time.
Whether you're sewing your own duvet cover or buying your bedding, the size has to be just right. If your duvet is a twin-size and your duvet cover is a full-size, the extra material will cause the duvet to shift inside the fabric and will be a bunched eye-sore. The opposite problem happens when fitting a larger duvet into a smaller cover. It will not fit completely, and the duvet will not rest flat or be evenly distributed inside the cover. Buying the right size and shape eliminates these concerns. For the DIYers, remember that a cover will need double the fabric (one piece for the top, one for the bottom), with 6 yards per side for a queen-size cover and 9 yards per side for a king.