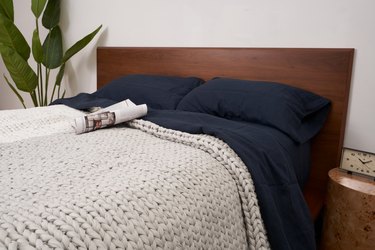 Bearaby is known for creating weighted blankets with style, and recently, the brand launched its biggest, heaviest-knit weighted blanket. Coming in at 35 pounds, The Hugger was designed to replace a duvet cover for two people.
When I agreed to review The Hugger, I was excited, but I was also nervous. My boyfriend and I are embarrassingly picky about everything we bring into our home and this especially applies to bedroom decor (after three years, we still haven't found nightstands we like). To add to that, I'm a hot sleeper who lives in Los Angeles (so I'm basically the Goldilocks of bedding), so The Hugger definitely had its work cut out for it.
However, after over two weeks of trying The Hugger, I am happy to report that I love it. My boyfriend is also a huge fan, making this a double win. Since the blanket is sustainably made with 100% organic cotton and features a chunky knit, it's super breathable. I didn't overheat once — even though it's weighted.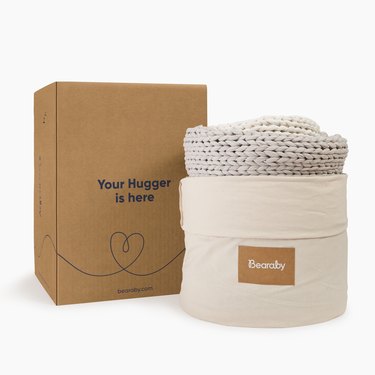 We were also impressed with the size and color of the blanket. Measuring 90" x 90" for a queen bed, The Hugger was a bit big on our full-sized bed, but since it has a cozy throw vibe and comes in a color-blocked moonstone gray and cloud white design, it didn't stand out or look awkward draped on the bed. Instead, it comes off as the type of throw you'd like to burrow into.
As for how the weighted blanket made us feel, my boyfriend used the following descriptors: calm, relaxed, and temperature-regulated. "It's the best of both worlds, a throw blanket and comforter combined," he says. I fully agree, especially as the more anxious one in our relationship. The Hugger has made it easier for me to fall asleep and stay asleep at night, which is a momentous task.
The Hugger is priced at $399 and honestly, I think it's worth every penny. It looks great, feels great, and works as a weighted blanket that's meant to calm you down and help you sleep.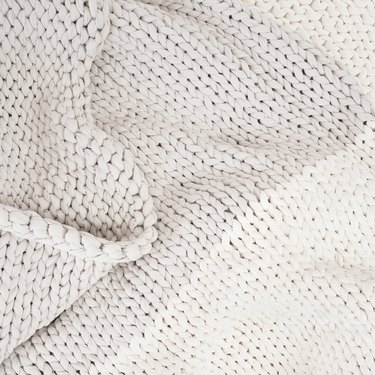 The only downside I can think of is that since it is large, weighted, and knit, you have to get The Hugger dry-cleaned — but that's not exactly surprising for this type of item. When it's time for that to happen, I'll probably call around to see which local cleaner will give me the best price and keep my fingers crossed.
I give it a 9/10 and my boyfriend gives it an 8.5/10. If you're looking for a new duvet and want your bedroom to be ​the most​ relaxing, The Hugger is the perfect fit.