What's as cozy and warm as a comforter, but more lightweight and easier to maintain? If you guessed a duvet, you are correct. A duvet, typically filled with down, feathers or synthetic fibers, is essentially a large, pillow-like bag designed to fit your mattress without hanging off the edges. It is normally white or beige and meant to be used with a protective cover.
Imagine a pillow sliding into a pillowcase, and that's more or less how a duvet and its cover function. A full duvet set usually comes with two matching pillow shams. Typically, you can purchase duvet cover sets which come with a duvet (which acts as a comforter), a cover (the comforter's casing) and pillow shams. Before you run out and purchase a duvet cover set, it's important to know a thing or two about how they differ from traditional comforters, where you can buy them and which fabrics and styles to consider.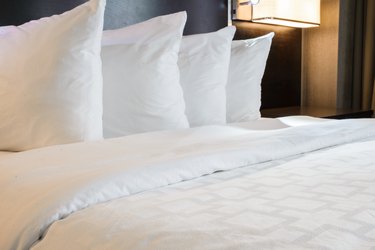 Comforter vs. Duvet Cover Set
You're deciding between a comforter and a duvet cover set, but you're not exactly sure which one to choose. Like a duvet, most comforters are filled with down but differ in that they do not require a cover. Comforters are made from two layers of material stitched together and contain less down than a duvet, and are therefore not quite as fluffy and luxurious feeling. And while a duvet can be used sans top sheet, comforters usually require the company of a sheet set.
Why Do Duvets Have Covers?
Duvets themselves are not particularly attractive. Looking a lot like a pillow without a case, a duvet cover is required to protect the duvet and to make the bedding visually appealing. The good news is that duvet covers are easily changeable. To refresh the look of your bed or your entire bedroom, you can simply swap out one duvet cover for another. Another perk of having a duvet cover is that they're easy to wash. Most duvet covers are machine washable and lightweight, so you can just pop them in the wash and voila! You've got clean bedding.
What Are Some Fabric Options?
The most common materials for duvet covers are cotton and polyester. They're easy to wash and come in a variety of styles. If you're looking for luxury, opt for cotton sateen or silk covers. In terms of thread count, as with other bedding a higher thread count often means softer fabric. A duvet cover that has a thread count of 300 or higher is considered above-average quality.
What Are the Style Options?
Styles for duvet cover sets are boundless. Whether you prefer bold patterns, artistic prints, minimalist cottons, luxurious silks, embroidered velvet or stonewashed linens, there is a textile for every taste. And remember: Duvet covers are easy to switch up, so the look you choose today doesn't require long-term commitment.
What Are the Best Places to Buy Duvet Cover Sets?
Duvet cover sets can be purchased at nearly any home decor store or department store bedding section. If you're looking for beautifully patterned duvet covers, Urban Outfitters is a great option. Ikea and John Lewis have affordable options. If you're looking to splurge on a plush set of luxurious and high-end sets, then head to Restoration Hardware.