Both the California king and regular king size beds are spacious, made to give sleepers ample room to spread out and sleep comfortably. While at first glance they seem to be the same size, the differences in length and width need to be kept in mind when picking the perfect bed linens. To rest easy with your bedding choices, make sure the bedding you want is the right size for the bed you have.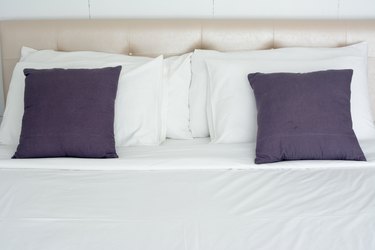 Extra Long Vs. Extra Wide
Break out your measuring tape if you're unsure which size king you have because the width and the length of a California king and a regular king are different. A king size bed will be 76- to 78-inches wide and 80 inches long. A queen size bed is the same length as a king, but the king is at least 16 inches wider. The California king is for those who need length. A tall person who does not want their feet hanging off the edge of the bed will be content with a California king. This bed is 72 inches wide but 84 inches long. It's the longest standard bed available without having something custom made. Sheets and comforters made for a California king will be too long for a regular king, and bed linens for a regular king will be too wide for a California king.
Bigger Than Average
Materials and style matter for your king comforter. A fitted comforter is tailored to fit the contours of the bed, with seams at the foot and corners. Unfitted comforters are basically blankets that drape over the bed. Naturally, a regular king fitted comforter will not work on a Cali king. Washing comes into play with materials. Washing a feather down comforter has a unique set of challenges when the comforter is over 70 inches wide. When choosing a comforter for a California king or a regular king, remember that you will have to wash it at some point. Duvet covers are a good solution for weekly washes. A lighter comforter has less material and may fit into a washer at home. Otherwise, larger California king and regular king comforters will have to be professionally washed or taken to a larger washer.
Full Bed Coverage
Those with a regular king size bed have the advantage when it comes to shopping. King-sized bedding is often easier to find than California king bedding. Luckily, online stores offer a larger selection of California king sheets, blankets and comforters. It is possible to use a regular king size comforter on a California king, but there will be a gap in coverage at either the foot or the head of the bed. Likewise, a California king on a regular bed runs the risk of catching or bunching if there is a footboard. The added material at the feet may be too hot for some sleepers, and it will not cover the whole of the bed. Keep up with the decorative aesthetics of the room and pick bedding that actually fits your bed so that no extra material is bunching, hanging awkwardly or showing too much of the sheets underneath.