Nothing says "ultimate hockey fan" like incorporating equipment and memorabilia into your home decor scheme. Show your support for the rough and tumble winter sport by re-purposing hockey pucks into functional home decor pieces; the endless possibilities will certainly get you to start thinking outside the penalty box when it comes to decorating your home.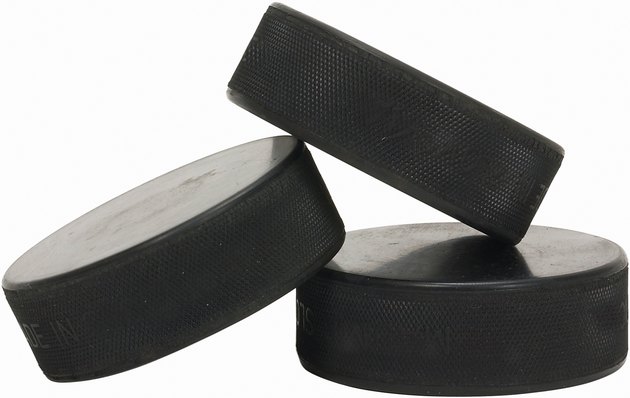 Starting At the Front Door
Starting with the doors of your home, the opportunity to create original hockey puck decor is knocking quite literally. Turn some of your plain old hockey pucks into eye-catching new doorknobs by decorating them with a fresh, colorful coat of paint and adding a lock set. For a rustic look, go with natural or metallic paint colors to coat the pucks or, for easy access in the dark, consider using a glow in the dark paint variety.
Use your love of hockey to get your home in tip-top organizational shape. Hockey pucks can be used to create a variety of functional, decorative organizational items. For instance, glue magnets to the back of plain or painted hockey pucks for a heavy-duty office or fridge magnet. You can also use a hockey puck as a decorative paperweight, or you can cut one in half to make your own set of bookends.
A hockey puck can go a long way in giving your living room a decorative update. For instance, a stack of hockey pucks can be turned into the base of a lamp for a side or end table that is sure to turn heads. You can also use them to coat the surface of a coffee table; just add a sheet of glass over top for a sleek finish that will hold everything in place. Or, simply use plain or decorated hockey pucks as a set of new coasters.
Spruce up your walls with a few innovative hockey puck projects. For instance, use the pucks to create a large, decorative collage to show off your artistic side. Glue a stack of pucks together for an oversize wall hook to hang coats, equipment or any other variety of materials on your walls. Or, use the puck as the base for a new wall clock; simply attach a set of clockworks to the center of the puck, and then draw or paint the numbers around the edges.