Take your unfinished basement from dark and dreary to bright and inviting with a few budget-friendly modifications. Make use of the untapped space by first moving any clutter to a confined area. Next, give your basement a thorough cleaning -- sweep and mop the floors, clear out any cobwebs and scrub the windows. Stretch your decorating dollars with economy-minded decorating updates -- paint, secondhand furnishings, flea market finds and repurposed items -- to add texture, color and function to any unfinished basement.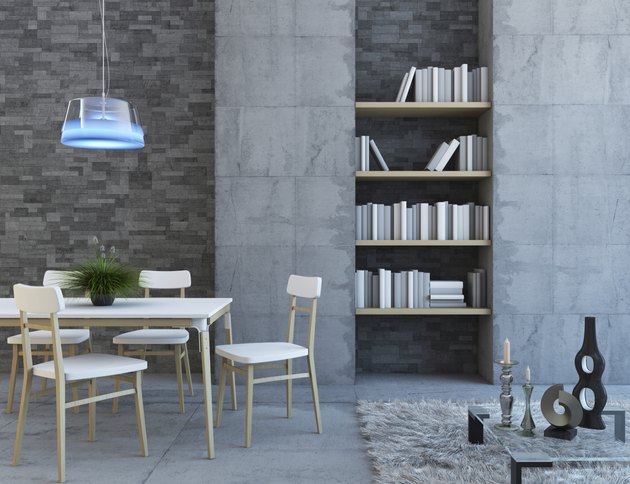 credit:
krooogle/iStock/Getty Images
Give dismal concrete walls an instant energy kick by applying a coat of fresh paint. Use waterproof paint specifically designed for concrete surfaces to block any dampness on both the unfinished walls and floors. Apply a light-colored neutral hue -- such as pristine white, barely beige or creamy ivory -- to brighten bleak gray-toned concrete. Paint the overhead pipes, exposed beams, heating ducts and other unfinished ceiling areas with the same hue for a cohesive look that conveys modern, industrial-style panache. Cover a single wall with a vivacious tone -- sunny yellow, lime green, tangy tangerine -- to add a splash of juicy color.
A variety of textiles adds instant warmth to an unfinished basement. For example, use area rugs or sticky-backed carpet squares to define different zones, such as a sitting area, home office or play space for the kids. Add upholstered furniture pieces with plush toss pillows for cozy comfort. Deck the walls with woven tapestries and framed fabric pieces displaying jazzy prints to inexpensively warm up the decor temperature. Install floor-to-ceiling draperies over small basement windows to give the illusion of larger windows with a soft touch. Maintain a cozy, comfy temperature with a portable heater or freestanding electric fireplace with a built-in heater.
Incorporate an assortment of light fixtures to brighten the typical depressing vibe found in an unfinished basement. Exchange naked bulbs for more decorative replacements, such as crystal-faceted or jazzy striped light bulbs. Install attractive pendant lights to ramp up the level of brightness and visual appeal. Hang strings of clear twinkle lights to generate a cheery vibe. Bring dark corners to life with stylish floor lamps; situate table lamps on accent tables to provide task lighting for reading and hobbies.
Make your unfinished basement work hard for you with designated activity zones. For example, create a workout area by filling a vacant corner with your favorite exercise equipment and padded mats to define your home gym. Install a few inexpensive full-length mirrors and inspirational framed posters on the adjacent wall space to spice up your workouts. Open shelving units and a card table with chairs provide a designated spot to store and play board and card games. A comfy sofa, oversize floor pillows and a television set make a space for watching movies together or playing video games.