If you operate a home daycare, designing the layout of the room requires thought and planning. Careful consideration should be given to the activities you want to expose the children in your care to. Once you have decided on the uses you want to integrate into the room, decide how best to incorporate the furniture and accessories to accommodate such activities. The room should be well organized so that it is welcoming and comfortable to children, as well as a functional space to use and safe for young children.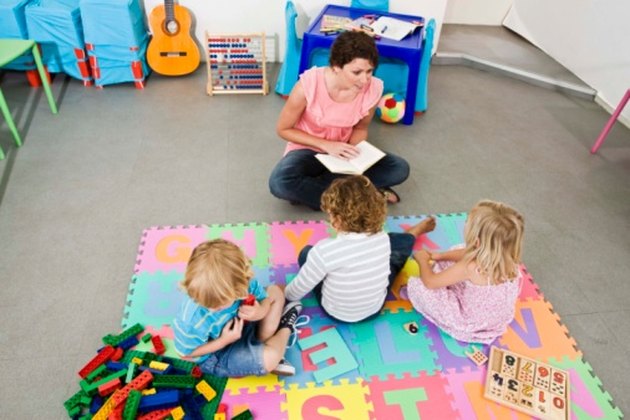 Step 1
Check with your appropriate town, county and state departments. Typically, there are licensing laws regarding the health and safety of a home daycare that need to be followed.
Step 2
Childproof the chosen room. Cover all wall outlets. Remove breakables. Remove potentially hazardous materials and chemicals -- such as cleaning products. If you need to keep such items in the space, make sure they are behind locked doors. Block any stairs or other potentially dangerous areas with child safety gates.
Step 3
Choose a diapering area. If you are providing daycare for children who are in diapers, you will need to have an area where they can be changed. An ideal location for this is near a bathroom. Place a changing table stocked with diapers, wipes, hand sanitizer and other necessities, as well as a diaper disposal in the area.
Step 4
Arrange tables. Tables will be used for arts and crafts, fine-motor activities and as a space to eat. Place the tables near a kitchen area or an area that is within close proximity to a sink. Doing so will provide ease with set up and clean up in the area.
Step 5
Set up arts and crafts storage. Place a shelf near the table and fill it with paper, crayons, markers, paints and other arts and crafts related objects. Place items you want children to be able to access themselves on open shelves. Store objects that you don't want them to easily reach behind closed cabinets.
Step 6
Design a quiet space. Use this space for reading and naps. Place mats and bean bag chairs on the floor. Set up cots. Surround the area with bookshelves stocked with a variety of literature.
Step 7
Create an imaginative/free play space. Lay out foam mats on the floor. Place doll houses, a bin with costumes, blocks, trucks and other items that children may use for imaginative play in this space.
Step 8
Arrange a meeting area. Cover the floor with soft mats that children can sit on. Place a rocking chair in a corner that you can sit on. Hang learning charts, calendars and other educational items on the walls. Use this area to have a morning meeting with your kids your kids where you can discuss the events for the days and explain new concepts.
Step 9
Set up storage. Shelves, cubbies, bins and other storage items can be used to hold children's belongings, toys and other gear that may be needed.