Brocade fabrics have evolved over the years. As with many other textiles, the ability to mass-manufacture has opened the fabric up to changes that have made it more readily available and affordable. These luxurious fabrics, once made exclusively from silk, can now be re-created in a variety of other types of fibers. No matter what type of fabric it is made from, you can easily recognize brocade by the look of its rich, embossed designs.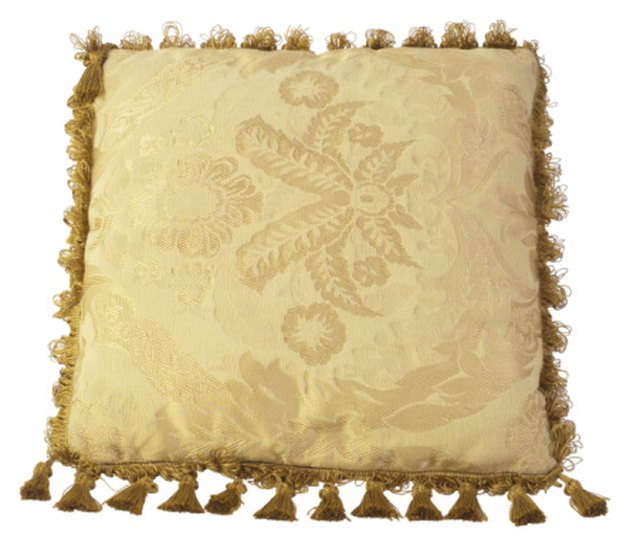 The first brocade fabrics were made of silk. Thanks to developments in manufacturing, the brocade style can be duplicated in cotton, rayon and even man-made polyester. Initially, designs were woven into the fabric in either silver or gold thread. Today's brocade may be woven with a variety of colors. Popular designs in brocade fabrics include florals, foliage and spiritual motifs. You can even find brocade with religious scriptures intricately woven into the fabric.
Silk brocade fabrics are believed to have originated during the Shang dynasty in China, dating all the way back to 1766 B.C. Europeans began working with brocade in the 15th and 16th centuries, and considered the weaving to be an art form in its own right. Historically, brocade was used to create luxurious state or church robes, sarees and special-occasion wear. It was also used for covering sofas and chairs and constructing fine draperies.
It may appear that the designs on brocade fabrics are embroidered on, but they are not. The designs are woven into the fabric. This means that brocade is often reversible. Brocade is sometimes mistakenly referred to as jacquard. The term "jacquard" does not apply to the fabric, but to the design woven into it, and is taken from the name of the loom used to create the fabric. Brocade fabric may have a jacquard pattern or a number of others, all determined by the person who is weaving it.
Brocade can be purchased in almost any fabric store that carries a large selection. Brocade is sold by the yard from bolts. The fabric is typically 44 to 45 inches wide, unless it is made of silk. Silk brocade generally comes in 35-inch widths. To determine the fabric's width for sure, check the end of the bolt. The price for brocade fabric varies according to its fiber content. Upholstery-grade brocade will cost more, since it is created to be a thicker fabric made to withstand heavy wear and usage.