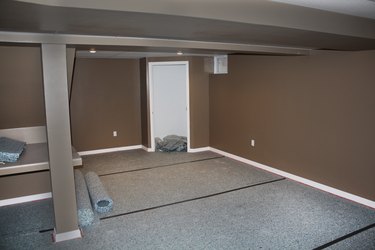 Choosing carpet for your home can be a daunting task as so many makes and styles are available. Different carpet choices will have different costs associated with them, so when making your budget, you will want to determine first what qualities you are seeking in your carpet.
Cost Factors
The major cost factors of your carpet will be the carpet type, style, composition, durability and thickness. Type of carpets may vary from the popular cut-pile or textured style to the looped or Berber style of carpet. The thickness of the yarn, the loop length and cut, the pile height, and the fibers used will all impact pricing.
Cost by Types
In general, carpet prices can range from $1 to $4 a square foot, with more luxury brands costing up to $8 to $10 per square foot as of 2010. A basic textured carpet made from nylon yarn can average around $1 per square foot. A soft Berber might come in just under $4 a square foot.
Additional Costs
In addition to the actual cost of the carpet, you will need to factor in the cost of the carpet pad and any installation costs you may encounter if you choose to have the carpet professionally installed. Generally, you should add about $1 per square foot for padding and installation, although some stores may provide flat rates on carpet installation.
---
Erika Myers is a teacher and therapist who has been writing professionally since 2010. She specializes in articles on parenting, education and mental health for sites such as eHow and Answerbag. She has worked with adolescents and families since 1995. Myers holds a Master of Education from Harvard University and a Master of Science in community counseling from Western Carolina University.