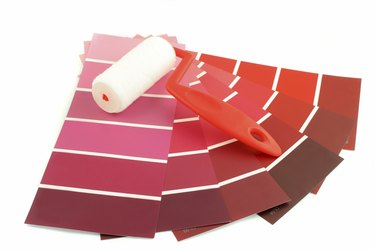 Some form of red looks good with almost any other color, because so many red varieties exist. The trick is to find the perfect red to complement its companion hue. Red is one of the three primaries, red, blue and yellow, from which all other colors derive. Pure reds that lean toward yellow appear vibrant and slightly orange, while reds that lean toward blue appear deeper and slightly violet. Reds that lean toward green, red's complement and directly across from it on the color wheel, are subdued and slightly brown. All these colors can be further modified by adding white to form tints or black to form shades, resulting in an enormous number of hues that fall under the red umbrella.
All Aglow Reds
Red or versions of red leaning toward yellow, such as fire engine red, are bright and vibrant. In interior spaces, large areas of pure red or red-orange tones may be overpowering. However, in small doses, such as on an accent wall or on small accessories, these colors work to balance large areas of a cooler color, such as blue or green, or a cool neutral like gray. Bright red also combines with black for drama and sophistication, or with white for purity and freshness.
Regal Reverent Reds
As red moves toward blue on the color wheel, its energy is less frenetic, more harnessed, and quiet but still vivid. Consider cranberry red, a rich tone appropriate in an interior space, especially when combined with contrasting woodwork, either white or finished wood. Further toward blue is red-violet, a deeper color that evokes fine wines and elegant dining, a feeling of convivial luxury. Cooler reds like these combine handsomely with warmer blue tones, such as periwinkle blue and blue-violet.
Complementary Red Combinations
Reds modified with small amounts of green become rich and complex -- brownish tones with life, yet comfortable to live with. Examples of these colors include brick, raw sienna, and the 2015 Pantone color of the year, marsala. These reds combine successfully with brownish neutrals such as taupe, putty or beige to add interest and vitality. They also quietly enliven and produce contrast in spaces where green or cool gray is dominant.
Tints Are Red on Tiptoes
Lighter versions of red formed by adding white are called tints, and red tints offer a myriad of possibilities for introducing subtle warmth and energy into interior spaces. Rose red and pink, salmon and peach, raspberry and bubblegum are all members of the red tint family. Pale pinkish versions of red can act as neutral backdrops for richly colored interior furnishings and accessories.
Red Shades Add Strength and Contrast
Deep tones of red, formed by adding black to pure color, create strong, majestic hues that offer richness and contrast to light or vivid colors. Examples of red shades are colors with names such as garnet, blood or mahogany. These tones look elegant on walls or as accents with light tints of red or with light or medium neutral hues such as tan, gray or sage green.
Exterior Reds Harmonize With Natural Surroundings
Red often appears on the exteriors of buildings as well as interiors. Exterior reds must be subdued by adding green, or deepened by adding black to create hues that blend with natural surroundings. Barn red is a familiar and successful hue on exterior walls, and a Swedish version called falun red is also effective, especially when combined with white trim. Red accents on window frames or shutters draw attention to architectural details and create a friendly-looking facade. Red accents look well with pale or medium tones of neutral colors such as gray or putty.
---
Melanie Aves has more than 30 years writing experience. Aves coauthored four interior design color books, authored a book on Newport Beach, California, wrote newspaper features and currently writes monthly magazine features. She holds a Master of Arts degree, a certificate in interior design, and completed post-graduate studies in journalism.