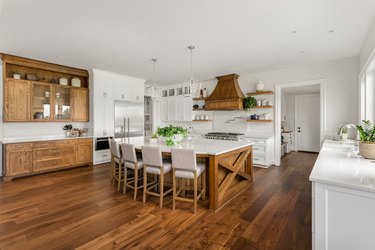 Hickory wood is an absolutely gorgeous choice for kitchen cabinetry, with its two-tone veining that can vary from cabinet to cabinet. The contrast between those pale-cream streaks and the darker, warm, almost-orange or red wood makes any type of hickory cabinet stunning and unique. Hickory wood has a complex flame-like grain to it, and the contrast between the near-white and darker wood produces complicated patterns that can provide the cornerstone to a beautiful kitchen design.
Decorating Around Hickory Cabinets
If you're looking to coordinate your kitchen around hickory cabinets, congratulations — it's bound to be lovely and dramatic no matter what choices you make. Depending on the way you coordinate the rest of the kitchen with the hickory patterns, you'll be able to achieve any effect you want. There are numerous color schemes for kitchens with hickory cabinets.
The most important step is to have your hickory cabinets on hand. This lets you get a better feel for the colors. Is the lighter color a cool, a neutral or a warm cream? Is the darker color neutral, orange or red? Identifying these tones will help direct the rest of your kitchen decoration.
The first big decisions to make when you're considering the rest of your decor are: do you want to lean into the warmness of the hickory wood, do you want to skew toward neutrals to show off other accents in your kitchen or do you want to play into the contrast of warm and cool colors? Each option has its strength.
Using Warm Colors
You can use additional warm colors to pull out hints from your cabinets, but you'll need to be careful to not overdo it. You can use neutrals but be sure that you're providing accent points to keep it from edging into boredom. And contrasting tones can be very exciting but they need to be reined in a bit to work without dominating the scene.
If you're interested in decorating with warm colors, choose wisely. Look into the darker tones of the wood. Does it lean toward yellow, orange, red or brown? With incredibly warm wood, you'll want to avoid bright yellows and oranges. If the tones edge more toward neutral, then bright red accents in your kitchen can absolutely work. Look for tones close to a rust color, or even burgundy, depending on the colors represented in your wood grain.
Neutral Color Schemes
If you want to play with neutrals, consider adding wood. A natural wood flooring, whether it's real hardwood or tile, can contribute to the natural theme and really accentuate the cabinets, according to Better Homes & Gardens. In this case, a wood flooring that's two to three shades darker than the cabinets is a good choice.
Make sure the overall tone is a match. Work with creams, warm greys and even a soft sage to bring out the more neutral tones. This creates a lovely platform to introduce other bold colors: navy blue, bright copper or dark red. Hickory cabinets with dark wood floors are very visually appealing.
Cool Color Schemes
If you're going for more contrast, bring in certain versions of cool colors to get the real effect. Look at green-blue blends like turquoise, hunter green and aqua to stand out against natural tones. Walls can ease toward a grey-purple to really let the tones in the cabinets pop. Gray floors with hickory cabinets are dramatic and in vogue.
A color like pine or moss will bring the warm cabinets to the forefront and give the entire kitchen the feel of the woods. A sky blue, or a bolder deeper blue, can really work as a background shade to set off the unique elements of the wood grain in the cabinets. Pick your favorite feel, and then let the rest of your kitchen show off your cabinet choice.