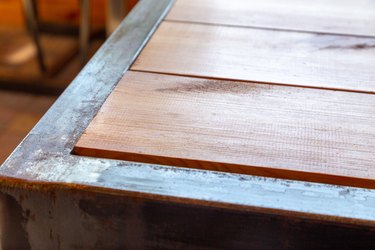 Despite knotty pine's strong association with rustic cabins and Mid-Century kitchens and dens, the wood has an appealing warmth and distinctive appearance that lends itself to a range of decor styles, including fresh, contemporary looks. Choosing the right paint colors that go with knotty pine in your home helps bring your decor to life.
Knotty Pine in Decor
Knotty pine is used anywhere wood appears as a decor element: paneling for walls and ceilings, flooring, cabinets and furniture. Traditional knotty pine is characterized by warm yellow to orange colors; the wood is often stained and varnished. In traditional paneling, the boards are narrow with rounded edges that create a complex texture along with the knot pattern.
This look complements Mid-Century Modern, rustic and country decor. Contemporary decor uses lighter shades of knotty pine, which are often achieved by bleaching or whitewashing. In contemporary paneling, the boards are frequently unvarnished, wider with smooth edges and placed horizontally.
Color Partners for Knotty Pine
When selecting paint colors, pay attention to the color temperature of the knotty pine. Traditional knotty pine is warm in color, while contemporary knotty pine reads as cool white or gray. Match warm red or orange knotty pine with warm shades, and cool white or gray knotty pine with cool colors.
Paint colors that go with pine floors, knotty pine walls or pine cabinetry include:
Neutrals blend well with both traditional and contemporary knotty pine. Use lighter neutrals such as off-white, beige and light taupe with darker knotty pines. Contemporary knotty pine can be set off with black or dark brown accents in a color scheme that includes light grays and similar neutrals.

Blues and greens need careful selection but can produce striking effects with knotty pine. Traditional knotty pine is often paired with sage green or country blue, but Mid-Century Modern decor gets a dramatic look with deeper shades of turquoise or aqua. Cool, icy blues and greens complement knotty pine in contemporary decor.

Reds, yellows and orange can work with contemporary knotty pine, but they are generally not recommended with the red-orange traditional shades. However, a light lemon yellow might look attractive with traditional knotty pine in a country kitchen.
Knotty Pine and Kitchen Colors
In traditional kitchens, pair warm kitchen paint colors with knotty pine cabinets such as shades of sage green, country blue or off-white. For a bold retro or Mid-Century Modern look, highlight the warm knotty pine with rich shades of aqua, turquoise or avocado green.
Shiny chrome fixtures complement these styles; you could also use brass or copper in country kitchens. Contemporary kitchens with light or whitewashed knotty pine can use neutral and pastel color schemes along with stainless steel or brushed-nickel fixtures and hardware to complete the look.
Selecting the Right Paint Color
Because paint colors look different in different settings, you should prepare samples of the colors you are considering to view in your home:
Purchase a sample of the paint color, along with sheets of white poster board and small brushes.

Paint each poster board with a different sample color, carrying the paint out to the edges of the poster sheet. If you are selecting more than one color, such as for walls, ceiling and trim, cut the poster sheet into proportional sections and paint each section with one color from the grouping.

Label each sample piece with the paint's color name and brand.

Place your sample poster sheets against the knotty pine in the room to be painted. Look at the samples over several days under different light conditions, and in several positions around the room, until you're sure of your color choice.