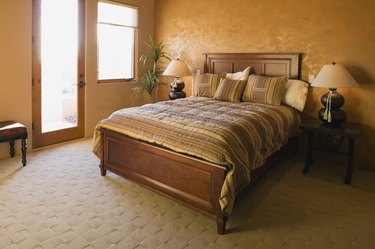 When choosing paint colors for a room, it's important to consider several factors: the purpose for which the room is used the quality of light which the room receives and the style in which the room will be decorated. Dark wood trim or furniture complicates this issue. Look carefully at the type and color of the wood in question to determine its underlying tones and choose a paint shade that will harmonize with them.
Whites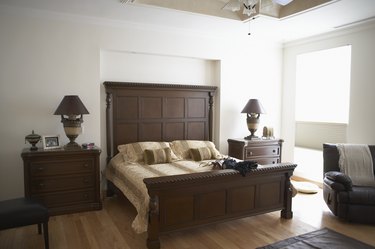 Interior decorators use white so frequently for good reason: it's an incredibly versatile neutral. In rooms with a surfeit of dark wood, it can help to lighten and brighten interiors. For rooms with highly varnished wood detailing or furniture, a low-sheen white should be used, as high sheen paints compete unpleasantly with shiny wood. Pure whites create dramatic contrasts with dark wood, while duller, flatter shades allow wood to glow. If your dark wood has reddish or yellow undertones, choose a creamy white with a yellowish base. Maple can be complemented by pinkish whites, while walnut works better with bluish ivories.
Greys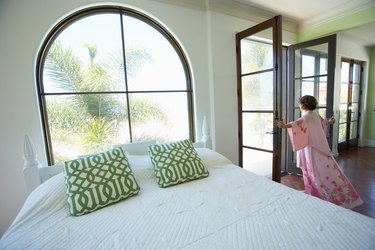 When combined with dark wood, gray paint makes rooms look calm and elegant. This unobtrusive color blends well with dark wood, creating low-contrast, serene effects. Gray can enhance woods like cherry and maple, bringing out their burgundy tones. Bluish grays flatter mahogany by accentuating its depth, while greenish grays enhance walnut trim. When in doubt, use a pale dove gray. It should go with virtually any type of dark wood.
Ochres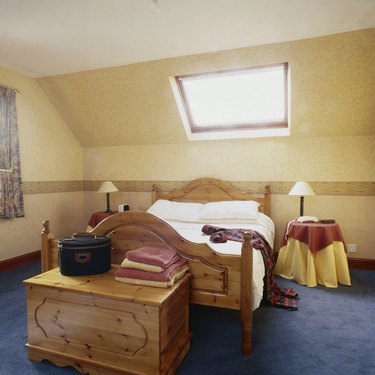 Bright yellows don't usually work well with dark wood, as they tend to have an overly flamboyant visual impact. In addition, other yellows often clash with dark wood as well. Dusty yellows, however, especially those with gray or brown undertones can mesh well with dark woods. Reserve these dark yellows for use with extremely dark woods. A flat, buff ocher can look terrific when combined with black-stained walnut.
Dark Reds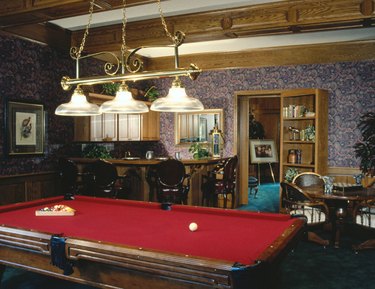 Dark reds can give wood-trimmed rooms a Victorian feel. Use wine reds with walnut, maple, ebony and mahogany to produce rich effects. Cranberry or blood red tones can match slightly lighter wood hues. Beware of choosing deep reds that match too closely with any reddish tones present in your wood, as this will make your woodwork fade blandly into the background.
Greens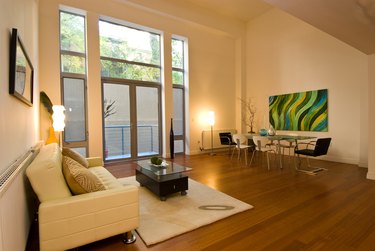 Cool greens balance cherry wood, while also harmonizing with bluer-toned woods. A mint green makes the most of shining ebony trim, while gray-inflected sages look breezy against walnut trim. Warm basil tones look masculine and strong against mahogany molding.
Blues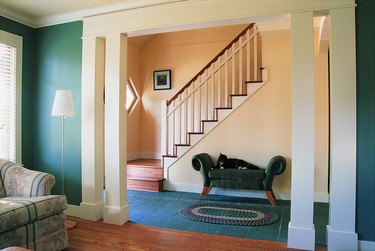 Blue paint colors offer the most flexible range of choices for complementing dark wood hues. While blue paint might not work well for kitchens, it creates a tranquil background for almost any other room, from bedrooms to bathrooms. A navy hue looks stunning with old walnut, while peacock blues make a classic complement for mahoganies. Very pale, flat blues look appealing in combination with cherry.
Purples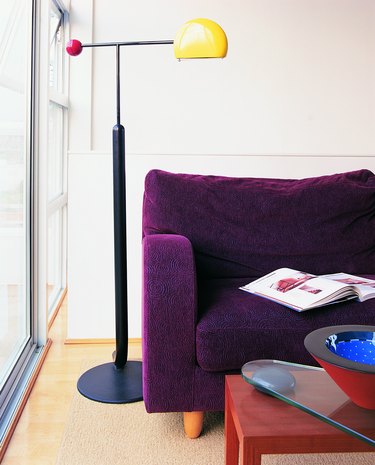 While purple has long had a reputation for difficulty, many designers have recently found that it can make for unusually chic interiors. Warm-toned woods will be best served by dark plums or luscious eggplants, while silvery purples and pale lavenders make cooler-toned woods pop. Use a milky, misty purple with unvarnished oak trim, and blackish purple with mahogany. Dull wine purples work well with ebony, while lapis lazulis match better with cherry.