The interior design of a church is supposed to be highly functional and yet visually appealing at the same time. A church's décor can reflect the attitudes of its members. Ancient cathedrals with stained glass may remain virtually unchanged for centuries—yet even in small churches, something as simple as moving a potted plant can create a schism. Because of this, great care should go into designing the interior of a church.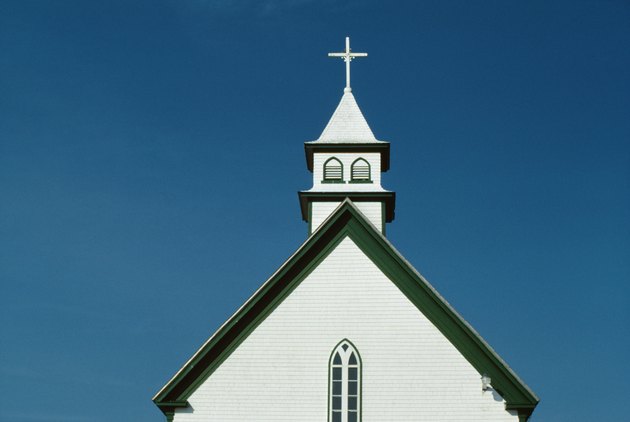 credit:
Photos.com/Photos.com/Getty Images
According to the design firm of Gresham, Smith and Partners, many youth centers are designed as an afterthought, if there is any thought to the design at all. Furniture may consist of cast-off couches and chairs. But youth rooms should be specially designed with teens in mind. Because of the speed at which teen culture changes, the youth center may be the most frequently updated room in all of the church. The youth center should be bright and inviting and maintain its own unique identity. Youth are drawn to areas that are energetic and spatially expansive. The areas should contain vibrant colors and rich textures.
The design of the church is a reflection of the functions of the belief. Many Catholic churches are placed so that the building's footprint resembles a cross. The building is typically taller than it is wide to draw the worshiper's mind heavenward. As the worshiper approaches the dais, they will walk through the stations of the cross. The purpose of design sprang from medieval times when the poor saw a representation of the majesty of heaven in the richness of the church. Even a small Catholic church may be taller than it is wide. By contrast, a small Protestant sanctuary may consist of a single room with little ornamentation. This often reflects the belief that the church building is only as a place to gather. In rural areas, a church may double as a school house and community center, or even part of a barn that has been donated for use by a member of the congregation.
The sanctuary of a church presents a unique set of requirements for any designer. Depending on the nature of the church, requirements may differ. Some churches require a balcony set aside for the minister, priest or pastor, or even the organist. Some churches continue to have a raised altar, while others are content with a speaking podium at the same level as the pews. All sanctuaries will require a speaking area and space for seating. Ceiling height will factor into the design. Some churches require a traditional design with wooden pews. A few modern churches are replacing pews with couches for a less-formal feel. All sanctuary designs should be approached with a thorough understanding of what is expected, and all designs should be approved by everyone involved before being implemented.