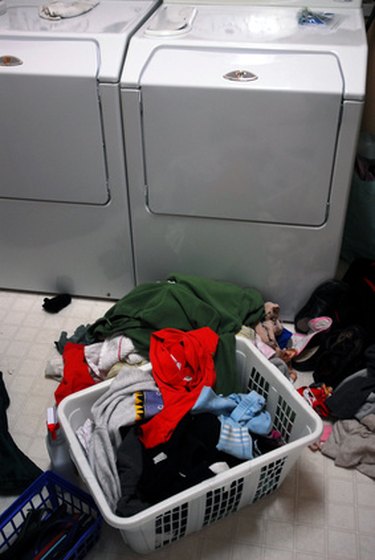 If you need to replace a part on your dryer or get it fixed, you will need your model number to ensure that you purchase the correct part. Unfortunately, there never seems to be one set place for a model number to be located. And even if you do find it, it might be next to a bunch of different numbers, and you're unable to figure out which is the model number. Because of this common problem, Maytag has offered an easy way to find your dryer's model number right from their website.
Step 1
Go to the Maytag home page. Look to the bottom right corner of the screen where it says "Product Support."
Step 2
Click on "Manuals & Literature" under Product Support.
Step 3
Click "How Do I Find My Model Number?" under the model number box.
Step 4
Select "Dryer" from the What Type of Appliance drop box. Then, press the orange arrow to the right of the screen.
Step 5
Read the diagram that shows where the model numbers are printed on the dryer. For Maytag dryers, they are located in a few different places: inside the door, inside the back frame, and on the back cabinet in the upper left corner. For gas dryers, the model number is located behind the access panel.