An agitator that doesn't undulate is a frustrating mess when you have a machine full of cold, wet clothes. If your machine isn't performing at its full potential, it could be the agitator that's holding the workhorse back from completing its daily duties. An agitator that has just begun to show signs of wear and tear by making a racket or ripping at clothes may just need to be replaced to get the otherwise well-working machine fine-tuned and running as it should.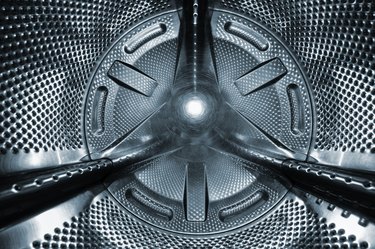 Purpose of an Agitator
Top-loading machines have agitators to move clothes through a cycle to get them clean in the most efficient way possible. A central post in the washing machine twists the agitator back and forth. This forces the clothes to work against each other to remove everyday dirt as well as difficult stains that have been pretreated.
First Safety Steps
Before you figure out what's agitating the washing machine, read up on the finer parts that make the machine function properly. The manual is chock full of good information you should be familiar with before you begin to take the machine apart. Locate the agitator cap before you do anything. This is usually at the top and secures the part to the central post. This can usually be done without any special tools.
How to Remove an Agitator
Once you're ready to start this project, have some good tools close at hand, including a screwdriver, pliers and bucket for any errant water that you may need to address. Always use gloves to keep fingers from catching on sharp objects as you remove the agitator from deep within the machine. Once the agitator cap is off, there may be a translucent cap underneath that's tightly fitted onto the agitator. Remove that with a pair of pliers. Look for a large nut in the center of the agitator. Remove the nut with a socket wrench. Be careful of the dog clamps that are attached to the agitator. At this point, you should be able to pull the agitator directly out of the washing machine. A new agitator can then be put in place by following the directions in the new agitator's manual. It should use the same methods to be replaced, but it may have a different set of washers, bolts and nuts that are suggested to use for optimal performance of the new part in the old washing machine.
---
Kimberley McGee is an award-winning journalist with 20+ years of experience writing for a variety of clients, including The New York Times, Las Vegas Review-Journal Home section and other national publications. As a professional writer she has researched, interviewed sources and written about home improvement, interior design and related business trends. She earned a B.A. in Journalism from the University of Nevada, Las Vegas. Her full bio and clips can be viewed at www.vegaswriter.com.
View Work