Troubleshooting washing machine malfunctions with your Kenmore unit can be frustrating. Fortunately, many newer machines are designed to offer an error code when something goes wrong. Owners can then refer to a manual to determine the reason for the code and attempt to fix it. Though these codes may vary slightly from model to model, many Kenmore washing machines use the same ones.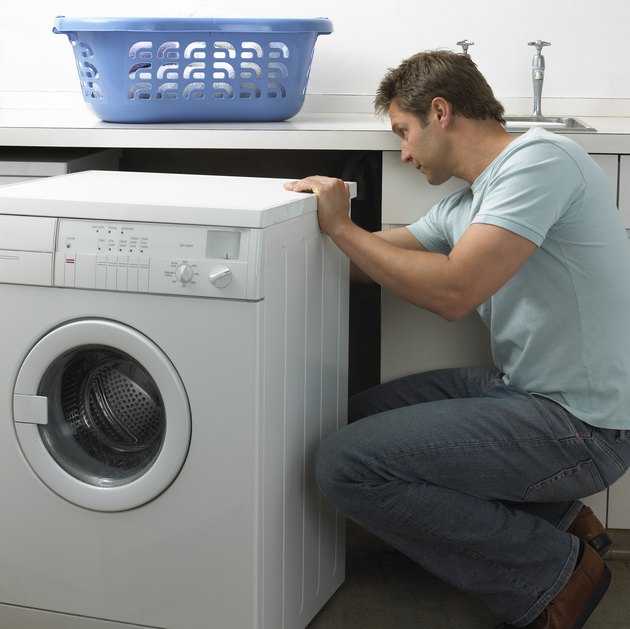 The Washing Machine's Cover is Stuck
If you receive an error code of F5 E1 (Lid Switch Fault), F5 E2 (Lid Lock Fault) or F5 E3 (Lid Unlock Fault), it's related to the cover of your top-loading Kenmore washer. In all cases, you should unplug the machine before proceeding. Check the lid lock and lid assembly to make sure there's no damage. If the lid lock isn't closing correctly or is striking the top of the machine, you'll need to replace the assembly. If you can't remove or unlock the lid, you may need to call a professional repair person for assistance.
The Washer Door is Stuck
Error codes that say "F/dU" signify an issue with your front loader's locking mechanism. If you can't get the door to unlock, you may need to replace the lock assembly. On the flip side, an error code of "F/dL" means the door won't lock. If there's no visible damage or loose wiring on the lock assembly, it may need to be replaced.
Other Error Codes
If you receive an error code that says "F/H," it indicates a problem with a front-loading washing machine's fill lines. If it's wintertime, check to be sure the supply line isn't frozen. The line must also be fully open to permit the flow of water. Check the water inlet valve assembly as well, and replace it if it's defective.
An error code that says "Sud" means there's an excess of detergent suds in the machine. Once you clean the washer of excess soap, you should ensure that you use the correct amount of high-efficiency detergent going forward. This is especially important for front-loading machines.
The error F/15 means a problem with the motor control board. To check it, unplug the washer and check all of the wire connections and motor connections. If all are secure, it's likely that the motor control board needs to be replaced.
An error code of F/13 means that the dispenser can't function properly. If this is the problem, you may hear this part of the system shifting back and forth even before the error code is displayed. Unplug the washer and check the dispenser for damage. Any parts that have been damaged will need to be replaced.
An F/09 error code indicates that there's an overflow in the machine. The washer's drain pump works to prevent this. Unplug the washer and check the water inlet valve to be sure it isn't defective. If your washer appears to be empty of water when the F/09 code appears, the error is likely related to the water-level pressure switch, which will require replacement.
---
Danielle Smyth is a writer and content marketer from upstate New York. She holds a Master of Science in Publishing from Pace University. She owns her own content marketing agency, Wordsmyth Creative Content Marketing (www.wordsmythcontent.com), and she enjoys writing home and DIY articles and blogs for clients in a variety of related industries. She also runs her own lifestyle blog, Sweet Frivolity (www.sweetfrivolity.com).
View Work