When the beans go bad or the greens get goopy, foul odors may begin to emit from your refrigerator. It happens to the best of fridges, a funky smell that just won't leave. If you get a whiff of something unpleasant each and every time you swing open your refrigerator door, you may need to do more than toss out a few containers that have sailed past their best by date.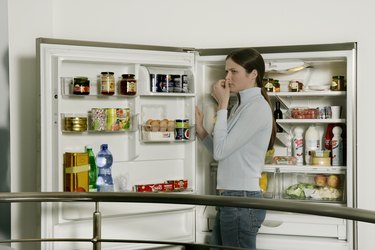 Why the Refrigerator Smells
It's not always the forgotten leftovers that give the fridge a bad funk. When serious stink is emitting from the depths of your refrigerator, it could be from odors that have wound their way into the water lines or gunked up the gasket on the door. The inside of a fridge is made of durable plastic, but that doesn't mean it isn't impenetrable. Vegetables that have wilted and succumbed to the effects of air and age can ooze a clear liquid that doesn't appear to be a big deal, but it can emit an immense aroma that is less than pleasant.
Nook and Cranny Check
Odors can find their way into the corners and shelving units of the refrigerator over time. Place all the food in a cooler. Most condiments can be kept out on the counter while the big job of giving the inside of the refrigerator and all its little moving parts a good scrub down. The inside of the fridge should be wiped down every three to four months. This includes removing the fruit, vegetable, meat and cheese bins and any shelving. The back wall behind the crisper bins for fruits and vegetables can collect unknown spills and scraps of food. If the refrigerator has a drip pan, pull it out and scrub it clean. These should be looked at regularly to keep pests at bay that are attracted to the moisture and odors. If you are intending to remove and clean the drip pan, unplug the refrigerator. This is best done when you are completing the quarterly cleaning of the fridge and all the food is safely tucked away in a cooler.
How to Get Rid of Smells
If using a commercial chemical cleaner inside the place where all your fresh food calls home, there are an abundance of organic and FDA-approved cleaners that are built to tackle fridge cleaning and odor removal. A gallon of warm water with a quarter cup of bleach will work to clean most family-sized refrigerators. A mixture of 1 cup of vinegar to 3 cups of water with a few splashes of dish soap can also pull out any funky smells in the refrigerator. Both of these elixirs will also keep mold from making its way into the fridge in the near future if you inadvertently leave left overs too long in the cold appliance. Always wear gloves when working with bleach.
---
Kimberley McGee is an award-winning journalist with 20+ years of experience writing for a variety of clients, including The New York Times, Las Vegas Review-Journal Home section and other national publications. As a professional writer she has researched, interviewed sources and written about home improvement, interior design and related business trends. She earned a B.A. in Journalism from the University of Nevada, Las Vegas. Her full bio and clips can be viewed at www.vegaswriter.com.
View Work