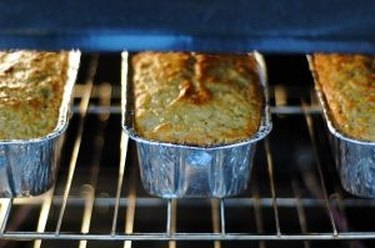 KitchenAid is one of the largest home appliance brands in the United States. Convention ovens are one of the company's biggest product lines, and the appliances can be found in many homes throughout the country. However, even the best oven can sometimes stop working properly. Learn how to troubleshoot your KitchenAid oven to fix these problems so you can get back to baking your favorite pies, cakes and hot meals.
Step 1
Make sure the appliance's control lock is not engaged if you cannot adjust the oven's settings and its front display is unresponsive. The control lock is a built-in safety mechanism that you may have accidentally engaged. If buttons are not responding, reset by pressing and holding "3" on the appliance's number keypad for five seconds.
Step 2
Check that you have set the temperature correctly on the KitchenAid appliance's oven temperature control if it the oven is not baking correctly or heating as you would like. Push the "BAKE" button on the front display panel and press the arrow keys to raise or lower the current baking temperature.
Step 3
Calibrate the oven. The KitchenAid oven displays its current temperature as well as the temperature to which you've set it. You need to recalibrate if you notice that the two temperatures are consistently different, thereby making it difficult to accurately gauge baking times. Push and hold the "BAKE" button until the KitchenAid appliance shows a zero. Press "BAKE" to raise and "BROIL" to decrease the temperature. For example, if you've set the oven to heat to 350 degrees and it shows an internal heat of 355 degrees, press "BAKE" until the panel displays 355 degrees. Then, press "START." This calibrates the oven's internal thermometer with its temperature settings.
Step 4
Clean the oven if you notice strange smells or excess smoke. Spilled food and other debris inside the oven may cause these problems. To clean, remove the racks from inside the oven and close its door. Press "CLEAN" on its front display panel. Enter a cleaning time by pressing the numerical keypad. Cleaning times can range from 2.5 hours to 4.5 hours, with dirtier ovens requiring more time. Press "START." The oven will begin the self-cleaning process. While it self cleans its internal parts, clean the outside of the oven with an oven cleaner and a rag. KitchenAid recommends its stainless steel cleaner and polisher (part #4396920) for best cleaning results.
Step 5
Contact KitchenAid's customer service line at (800) 422-1230 for warranty assistance and product support if your troubleshooting does not resolve your oven's problems. All KitchenAid ovens are covered by the original warranty up to five years after the purchase date. Representatives are available every weekday from 8 a.m. to 8 p.m. Eastern Standard Time. Have your product name, model number and purchase date ready when you call them.