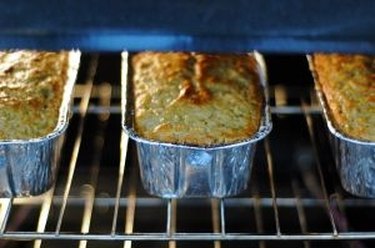 There are several reasons why your Whirlpool oven door is locked and won't open. Some modern Whirlpool ovens feature a child safety Control Lock that deactivates all oven controls and locks the door. The door will also lock during the self-cleaning cycle and won't unlatch until the temperature inside the oven cools to about 200 degrees Fahrenheit.
However, if the Whirlpool oven door is locked and won't open even after a cleaning cycle, it's possible the stove's control panel has malfunctioned. Learn how to troubleshoot Whirlpool oven control panel problems to get the door open and resume baking and making your favorite meals.
Whirlpool Self Cleaning Oven Troubleshooting
First, verify that the Whirlpool oven is connected to its power source, because the oven may lock down if experiencing a power surge or similar electrical problems. Additionally, check that a fuse hasn't been blown in your home's fuse box. Some older homes may not have the proper wiring to support a high-powered appliance such as a Whirlpool oven. If you are not sure if your wiring is sufficient, consult a local electrician.
Next, check to see if the Whirlpool oven's Control Lock has been turned on. A padlock symbol will be displayed in the corner of the Whirlpool oven's front display panel if it is locked. The oven will not unlock itself on its own even if it is disconnected from its power source. To disable, touch the screen to display the control screen message, and then swipe up.
An error code "LOC" will display on some models, verifying that the child lock is on and needs to be disabled before the oven will open. Depending on your particular model of Whirlpool oven, you'll need to push and hold either the Start or Cancel button for three to ten seconds in order to reset the lock.
Resetting an Oven Stuck in Self-Cleaning Mode
Once you've ruled out power supply and control lock issues, check to see if the Whirlpool oven is engaged in its self-cleaning cycle. During the self-cleaning process, the stove will lock its front door and will flash "OVEN LOCKED" on its front display. This is to prevent users from accidentally opening the oven and burning themselves during the high-heat segment in the cleaning process.
If you must open the oven, first stop the process by pressing and holding the "OFF/CANCEL" button on the stove's control panel. If the oven remains locked, wait for the internal temperatures to decrease. The locking mechanism is temperature controlled and will not unlock until internal temperatures have cooled.
Error Codes Indicating Faulty Lock
If the error codes F5 E1 are flashing on your Whirlpool oven's control panel, there is likely an electrical problem preventing the self-cleaning safety latch from locking or unlocking. Proceed by contacting Whirlpool's service department.
All Whirlpool self-cleaning ovens are covered for five years after the original purchase date. Call the warranty team for assistance by dialing toll-free (800) 253-1301 in the United States, or (800) 807-6777 in Canada. Be prepared to give the oven's model number and purchase date.