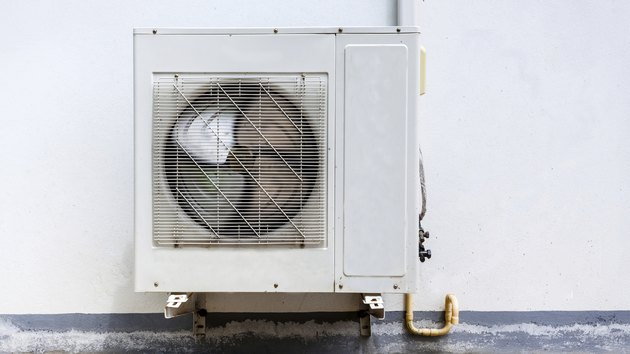 You can turn a new central air conditioner into tax relief as well as comfort. As of publication, you can take advantage of the Nonbusiness Energy Property Credit for central air conditioning units only if you acquired one in 2014. Since these and other energy credits have deadlines or may be extended, you should continue to check with agencies and groups such the Internal Revenue Service, Energy Star and businesses that sell air conditioning units.
Qualified Central Air Conditioners
The unit must rate at the highest energy efficiency tier set by the Consortium for Energy Efficiency in effect as of Jan. 1, 2009. According to Energy Star, you can verify your unit meets this standard by asking your heating-ventilation-air conditioner contractor for the manufacturer certification or going to the manufacturer's website.
For Your Primary Residence
The credit is available only for your existing main home in which you lived in 2014. You can treat the home as your primary residence even if you're temporarily away because of an illness, attending school, business, military service or vacation. For purposes of the credit, the IRS treats as homes a stick-built house, mobile home and manufactured home that meets the Federal Manufactured Home Construction and Safety Standards.
Amounts and Limits
For 2014, you can take up to $300 as a credit for the unit's cost. The purchase, onsite preparation, assembly and original installation qualify as expenses. Before you enter the credit on your return, determine if the total of your disability credits (Line 22 of Schedule R) and the credits you claim on lines 48 to 51 of your Form 1040 exceeds the amount you report as taxes on line 47 of Form 1040. If so, you can't use the Nonbusiness Energy Property Credit. Also, if you have taken a total of $500 in credits between 2006 and 2013, you won't receive a credit for 2014.
Renewable Air Conditioning
A geothermal heat pump, as opposed to a central air conditioner, uses the ground or ground water to heat and cool your home. You're allowed 30 percent of the cost of the system for the Residential Energy Efficient Property Credit if it meets Energy Star's standards. Find out from the manufacturer, dealer or contractor installing your system if the unit qualifies. You can take this credit on your main and second home. The residence can be either an existing one or under construction. Units installed in rental homes are not eligible. If the total of other credits exceeds your tax liability, you can carry over the credit the following years. As of publication, this credit runs through Dec. 31, 2016.
Claiming the Credits
You enter the Nonbusiness Energy Property Credit and Residential Energy Efficient Property Credit on line 53 of Form 1040 for residential energy credits. Attach Form 5695, Residential Energy Credits, to Form 1040. If you claim the Residential Energy Efficient Property Credit for your main and second homes, complete and attach a Form 5695 for each home.
---
Christopher Raines enjoys sharing his knowledge of business, financial matters and the law. He earned his business administration and law degrees from the University of North Carolina at Chapel Hill. As a lawyer since August 1996, Raines has handled cases involving business, consumer and other areas of the law.