Things You'll Need
Measuring tape

Thermal insulation foam, tubular

Duct tape

String

Scissors
Tip
Running water does not freeze, therefore you can easily unclog any frozen water that may occur in your garden hose by gently bending the hose to break up the frozen water, and allowing the water to run until all the frozen chunks are pushed out of the hose.
If your water pipes and spigots are not insulated, use the same thermal foam material and methods above to protect them from frost damage.
If you accidentally purchase a foam that does not laying snug on the hose, simply trim it with scissors.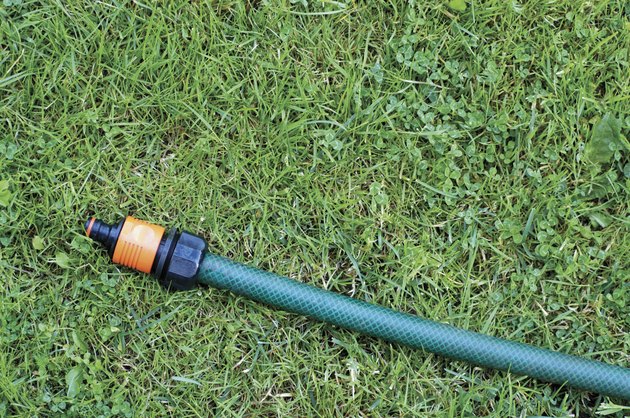 It's no secret that the best way to prevent wear and tear on a garden hose in areas that get below frost point is to store the hose away in a warm, dry location. But while it's good for the hose to be out of nature's elements, it will no longer provide any use in your yard when you may need it. Fortunately, it's easy to prevent those irritating chunks of ice from forming by using thermal insulation foam.
Step 1
Measure your garden hose's length. Purchase the appropriate length of thermal insulation foam at least two inches in diameter.
Step 2
Tubular insulation foam usually comes with a long slit cut into it for easy installation. Work the foam onto the length of the hose, being sure to come up to the base of the water spigot it is attached to.
Step 3
Secure it by tying string at a few points on the hose, including near the water spigot where the hose is attached.
Step 4
Wrap duct tape around the string and foam at the water spigot to firmly attach the insulation for the winter.
---
Anne Wilson is a writer and editor covering business and finance news, politics, issues affecting women and minorities, health, gardening, fashion and the environment. Most recently an associate editor for a nationally acclaimed magazine, Wilson also worked for The Associated Press and as a daily news reporter for several years. She has lived in California her entire life.