Things You'll Need
Bonemeal

Garden hoe

Handheld tree trimmers
Tip
When planting a new lilac tree, do not plant it near your house or any building with a slab.
Warning
Use caution to avoid overdosing your lilac tree with nitrogen. Feeding the tree should only be done once a year.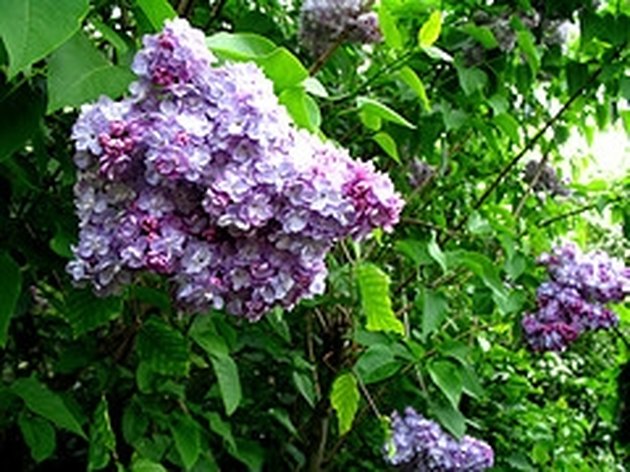 Lilacs display their beauty for several weeks in the late spring and early summer months. Lilacs can be planted as either a tree or a shrub--both are equally astounding in color, hardy and long lasting. Follow a few guidelines to care for a lilac tree and ensure that it blooms in full radiant blossoms from year to year.
Step 1
Feed the tree. Lilacs require nitrogen to produce beautiful blooms. You can provide the necessary ingredients by fertilizing your tree with bonemeal. Fertilizing should be done in the early spring. Simply till the soil surrounding the tree roots by using a garden hoe and mix bonemeal into the dirt. Use at least 3 oz. of bonemeal per square yard covering the roots of the tree.
Step 2
Deadhead flowers. As soon as a lilac flower has begun to wither, remove it. This will promote new growth of buds and encourage the blooming of a fuller tree next season.
Step 3
Remove suckers. In the weeks following the last of the lilac tree blossoms, remove any suckers or new twig growth. To remove suckers, simply clip them off by using a handheld tree trimmer. By doing this at the end of each season, your tree will remain shapely and not become scraggly.
Step 4
Prune. In the late fall months, prune the established limbs of the lilac tree. By removing dead limbs and damaged branches, you will promote a full bloomed tree the following season. This also allows the sunlight to reach all of the branches.
---
Angela Robinson is a work at home mom who is currently pursuing a career in freelance writing. She enjoys the challenge of researching and writing on topics such as home and garden, travel, education and health issues. Angela enjoys the expansion of knowledge as well as the flexibility that freelance writing offers.