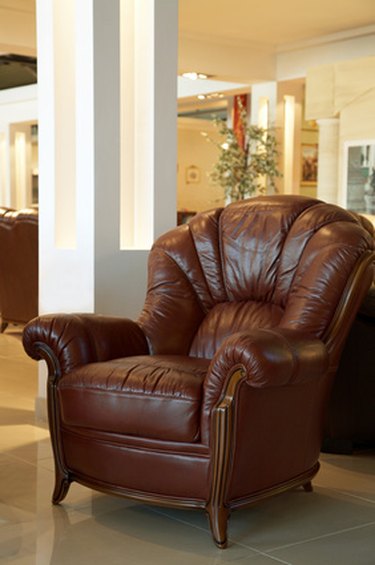 Leather furniture at a retail store may be out of your price range. However, with a little ingenuity, you could have custom leather furniture in your home for a fraction of the cost. There are two options for making your own leather furniture: from scratch and reupholstering your existing furniture.
From Scratch
For those of you handy with hammers and saws, building furniture from scratch may be a new way to branch out your skills. This is not a project for the uninitiated woodworker. Woodworking is an investment in time and money. Essentials include hammer, nails, hand saw (although a good electric saw would be faster and easier), wood glue, vices and levelers. Just setting up a good workshop could cost the same as buying your leather furniture from the store. If this is something you intend to take on as a life long hobby, consider enrolling in woodworking classes. Check with your local carpenter's guild or community college.
Reupholster
A cheaper and less work intensive alternative is reupholstering your existing furniture. If you don't like the shape of what you have, consider trolling the weekend yard sales and thrift stores for a cheap piece of furniture you like in upholstery you hate. Again, you might want to consider taking a class on upholstery work. Often they will let you bring in your own project and you can get expert advice while doing the work yourself. The only tools you need are a good pair of scissors, staple gun, sewing pins, seam ripper and upholstery tacks. The unwanted upholstery will serve as a pattern to cut your leather pieces. Remove the existing upholstery carefully. Needle nose pliers work well to pull out the existing staples. Use the seam ripper to separate any sewn pieces. Lay your leather out on a clean flat surface and pin the old upholstery pieces to it. Using your scissors cut out your piece mindful to leave at least a five-eights inch seam allowance. Reupholstering is easiest as a two-man job because the fabric must be kept taut while stapling. When stapling the new upholstery, remember to keep the distance of your staples neat and even so that when you apply the upholstery tacks the work will look professional.
A Note on Cushions
Reupholstering seat and back cushions will require some sewing. This requires an industrial sewing machine as well as the attachment of zippers. Consider outsourcing this part of the process to a local seamstress. Depending on her workload you could have your finished product back in a few days. Also consider contacting custom car shops that specialize in leather interiors. They may also be able to create the cushions for you for a small fee.
---
Transplanted Yankee Erin Watson-Price lives in Birmingham, Ala., and has been writing freelance articles since 1997. She worked as writer/co-editor for Coast to Coast Dachshund Rescue's newsletter, "The Long and the Short of It." In 2007 she obtained a certification as a copy editor. Watson-Price holds a Bachelor of Arts in creative writing from Southern Illinois University-Edwardsville.