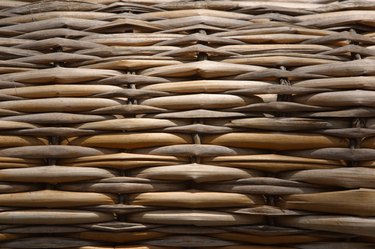 Wicker has become very popular for both indoor and outdoor furniture in recent years. For outdoor in particular, plastic wicker is a better choice. It is sturdy, long-lasting and easy to clean. Plastic wicker furniture almost never requires repair as long as it is regularly dusted and cleaned, but sometimes you'll need to freshen an aged, faded look.
What is Plastic Wicker?
Natural wicker has been popular as furniture for decades. Now, synthetic versions of wicker furniture are made with plastic or resin. Like natural wicker, it is lightweight and easily movable and is easily maintained. These qualities make it very popular for patio furniture, and synthetic wicker now comes in a wide range of colors and textures. Often synthetic wicker is sold as poly rattan, all-weather rattan furniture, or rattan outdoor furniture.
Basic Care
Synthetic wicker furniture has the advantage of not fading and being mold-free. You can leave it out in any weather, and it is easier to clean and maintain than natural wicker. The synthetic materials are woven to look just like various forms of natural wicker.This type of wicker is usually mounted on aluminum frames to give inherent strength to the furniture and guard against corrosion. For basic cleaning, use a brush as well as a vacuum. For synthetic wicker, hose it down with water, since the plastic or resin is waterproof.
Repair and Maintenance
If you feel your patio set has faded or is looking a bit tired, freshen it up by painting it a different color. Plastic furniture needs some special handling since it is easy to scratch the surface when trying to clean it. Some paint beads up or peels away after it dries. There are specialized spray paints for plastics like those made by Krylon. This kind of wicker rarely breaks since it has an aluminum internal structure and the outer material is weatherproof. Stains and spills can be cleaned up with some mild detergent and warm water. To avoid scratches, don't use abrasive cleaners or scrubs. And if you want to give your plastic resin furniture a really nice shine, use furniture polish made specifically for plastic furniture.
This kind of wicker comes in various grades, and it is worth spending a bit more for good quality so that it will last longer, especially in climates where your patio furniture receives heavy use.
---
Wanda Bershen has been writing for over 20 years on Fundraising, Marketing and Planning for arts organizations, including newsletters, proposals & planning documents, and articles for leading art and film publications. She holds a Bachelor of Arts from Bryn Mawr College and a Master of Philosophy from Yale University.