Things You'll Need
Saddle soap

4 clean rags

1 cup linseed oil

Saucepan

Spray bottle

1 cup white vinegar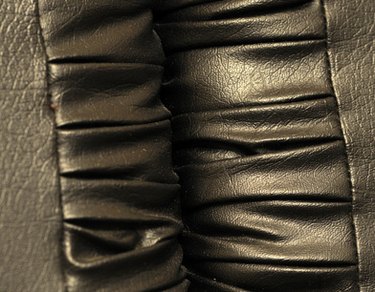 Leather is an elegant material, but unfortunately it tends to pick up odors. Leather couches pick up smoke and pet odors, while leather shoes and watches absorb sweat, giving them an unpleasant smell. While you may not be able to throw your leather items in the washer, you can still clean and deodorize them. White vinegar helps get the smell out, while linseed oil brings back the shine to your leather, restoring its elegant appeal.
Step 1
Rub a bar of saddle soap against a wet rag to work up a foamy lather. Use the rag to gently scrub the leather, removing all the excess dirt and grime.
Step 2
Rinse the saddle soap off the leather with a damp, clean cloth. Allow the leather to dry before proceeding.
Step 3
Boil 1 cup of linseed oil in a saucepan and allow it to cool completely. Pour the cooled oil into a spray bottle, and add 1 cup of vinegar to the bottle. Replace the sprayer, and shake the bottle to combine the oil and water.
Step 4
Spray the mixture all over the leather and rub it in with a rag. Allow the mixture to penetrate the leather for approximately 20 minutes.
Step 5
Wipe the excess oil and water off with a dry, clean rag.
---
Misty Rodriguez, born and raised in Orlando, Florida, has been a freelance writer since 2005. She has a wide variety of experience and mainly focuses on search engine optimization, mystery shopping narratives and how-to articles. Misty has an Associate of Arts degree in general education from Valencia Community College in Orlando, FL, and is currently working on her Bachelor's degree in nursing.