Installing new kitchen cabinets is a good investment. Taking the time to do it yourself can be rewarding, as well. And although installing kitchen cabinets is pretty straight forward work, understanding the key components will save you a lot of time.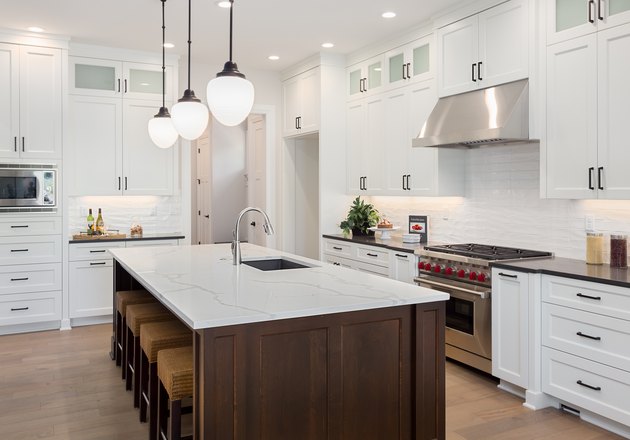 credit:
hikesterson/iStock/GettyImages
Before you buy, it's important to now the differences between framed and frameless cabinets. American cabinet makers tend to use framed construction while Europeans opt for eliminating the face frame for a more open look. Frameless cabinets are made with thicker box construction to keep its wide open shelves sturdy. The loss of the center stile appeals to homeowners who want a simple, clean look. Framed cabinetry offers more design options, such as inset cabinet doors, and they are more adjustable than frameless cabinetry.
You don't have to, but sealing or priming the wall and floor will save you a step if the cabinets don't fit exactly snug and you have a bit of bare wall peeking out. It also can help if you use a primer that will stop water from damaging bare drywall for future spills.
First, find your studs with a stud finder. Measure from the highest point of your floor and draw a level line on the walls that will hold the base cabinets. This is where the top of your cabinets will rest without a countertop. If you plan to put in top cabinets, draw a line at least 19 1/2 inches from your top cabinet line. This will be the bottom of your upper cabinets. Next draw a vertical line with a leveler to form a perfectly straight boundary for the edge of your cabinets.
Once your walls are marked up, confront your cabinets for installation. Removing doors, shelves and drawers will make it easier to install. Use painter's tape to mark each door, drawer and shelf so you can return it to its correct housing. For upper cabinets, test them by placing them where you want them first so that the door opens in the direction you need. Upper cabinets don't have a true top or bottom so you can hang it whichever way works best for your space. If you have any bows in the wall that are more than 3/8 of an inch, you'll need to shim them out so that they doesn't damage the cabinet when you attempt to secure it in place. To shim, hold a level on the wall and slide the tool up from the bottom and fix it to the place where it is most snug. Filler strips can be used if you have large gaps between cabinets, around corners or at the end panels.
Put your upper cabinets in first so you aren't tripping over the bottom cabinets as you fasten them to the wall. For cabinets that will share a partition, after securing them to the wall, clamp them together once you have lined up the face frames if you are using framed cabinetry. The doors can be adjusted by tightening or loosening the hinge.
Place the bottom cabinets and fasten them under the level line you drew. The next step is probably the most important. Use a level to ensure the surface isn't slanted. A shim will correct any slant that may occur from the new cabinets that don't agree with the old flooring. For base cabinets that back up to plugs, drainpipes and water lines, make sure to cut holes large enough to fit over the protruding fixtures and give room for future repairs if needed.
Always remember to measure twice, cut once and plan on taking extra time for a snug, level finish.