Earth sheltered and underground homes save energy and provide greater security than more conventional homes. They are also easier and less expensive to maintain, since they may not require new roofs or exterior paint. Architects and builders have eliminated many of the design problems that plagued earlier generations of underground homes. Earth sheltered and underground homes are often indistinguishable from conventional frame homes in terms of features and level of comfort. Many new home buyers now consider earth sheltered or underground homes as an alternative to more traditional home styles.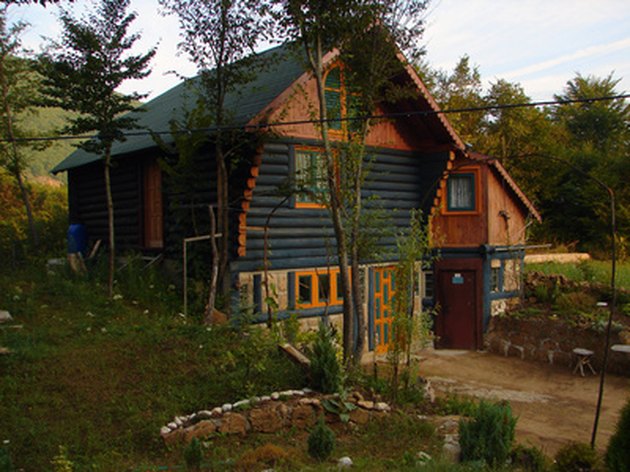 Step 1
Review house plans and specifications for the various home styles available and select one that best suits your needs. According to Texas-based builder Earth Sheltered Homes, atrium homes are entirely buried on top and three sides with the fourth side opening to a courtyard or atrium. Berm homes are typically built above grade and then buried afterwards. Hillside homes are perfect for lots that slope away from the road.
Step 2
Match the home style to the building site. For example, a hillside home requires a sloping building site while a berm home might work on either a hilly or flat lot. Be sure to visit the building site with an architect and builder before deciding on a home style.
Step 3
Consider your lifestyle when choosing a home style. For example, if interaction with outdoor living spaces is critical for someone who leads a physically active life, incorporating frequent access to these exterior spaces may result in reduced energy efficiency of the home.
Step 1
Know your local building code. Many communities restrict your ability to build underground or earth sheltered homes.
Step 2
Anticipate potential problems. Water infiltration and insect problems may be concerns. Discuss the possibility of these problems with a builder before construction and find solutions.
Step 3
Consider resale value before beginning to build your home. Many buyers will not consider earth sheltered or underground homes, which can impact your future need to resell. It may be difficult to obtain an accurate appraisal of value when selling the home if there are no comparable homes in the community.
Developing Detailed Home Plans
Step 1
Design the home so that it uses sunlight and wind patterns to save energy. According to experts at Texas A&M University, a properly situated home is more comfortable for the inhabitants and saves energy.
Step 2
Choose the best materials and construction method. Poured concrete or concrete blocks are common choices. In some areas of the country, it may be possible to build with steel or even wood. High quality windows are essential for energy efficiency purposes.
Step 3
Determine how to best ventilate the home. The Department of Energy warns that improperly ventilated earth sheltered and underground homes are at greater risk for indoor air pollution than other homes.