The great outdoors is just outside your doorway. A well-built deck makes it that much more enjoyable to step outside as well as adds value to your home and quality of every day life. Options for decking material have grown exponentially in the last decade, making it more economical to build a deck and offering more material and design choices for those desiring a deck.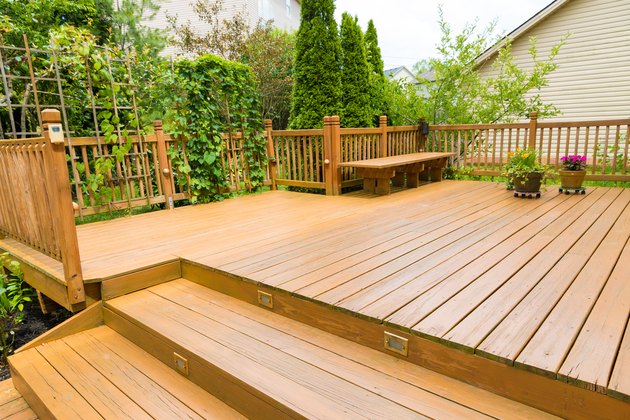 credit:
volgariver/iStock/GettyImages
Choosing the right material for your needs depends on your budget considerations and the size of the project you intend to build. Wood continues to be a mainstay for deck projects around the country, from hardy northeast climates to sunny southwest dry desserts. Pressured wood maintains its classic status, although that tried-and-true lumber option now comes in a vast array of colors and textures, bouncing it back to trending for home owners. There is also composite lumber, hardwood imports, plastic decking and the mold-resistant – and oft overlooked – aluminum. Although many DIYers lean toward traditional wood, plastic and its cousin in construction composite decking has some advantages. Many come in a bevy of hues to make your deck unique and are made of durable polyethylene or polyvinyl chloride. Composites combine plastic and wood fibers. Plastic lumber is lacking in wood fibers but is otherwise the same as composites. Both are highly resistant to rot, stains and cracks.
A pressure-treated wood deck built by a professional team will cost about $15 per square foot. This includes labor and lumber as well as the nuts and bolts to secure your deck for years to come, hopefully. Composites are a relatively new trend and cost a tad more at $35 a square foot. Hardwood decks will run about the same in price. A 200- to 500-square-foot deck costs around $7,000, according to Home Advisor. That's an average size for homes and will depend on material and overall intricate design. A plain 200-square-foot rectangular deck with fencing and posts will cost about half of that.
Before you hammer out some numbers, you may want to consider talking to an architect or landscaping company that handles deck building. Once you sit down with a professional designer you will have a better understanding of what your space can do for you and what materials you may need to make your deck dream come true. A quality deck that looks natural and functions well can expand your living space for many months out of the year. If done correctly, an outdoor deck can easily increase the value of your home by up to 70 percent depending on where you live.