Whether you live in a historically important house or have visited a monument like the Liberty Bell, you can recognize the importance and difficulty of preserving these pieces of our national history. Protecting a historical monument or a potential historical monument requires not just care of the monument itself, but also following a tricky legal progress to have the building or object recognized as an important piece of history. With some research and careful planning, you can ask your state to protect a historical monument.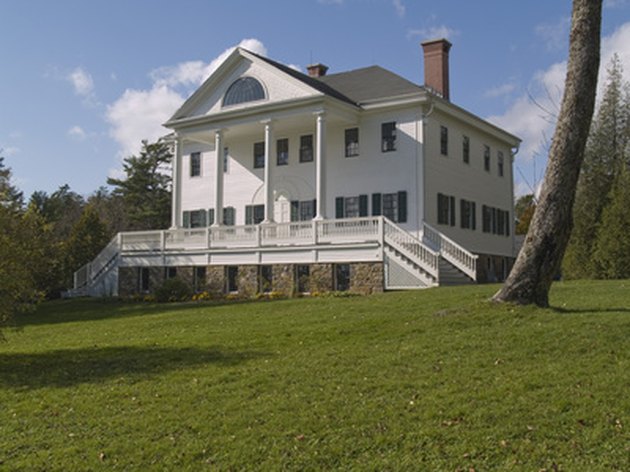 Step 1
Determine the historical significance of your building or other monument. There are four basic criteria for inclusion in the National Register of Historic Places: association with significant historical events, association with an important historical figure, embodiment of a particular historical architectural, engineering or landscaping style, or potential archaeological significance. The building should also be at least 50 years old and be structurally and stylistically intact. Gather any documentation of the building's age and significance, including survey records, copies of deeds, historical records or academic papers relating to the building.
Step 2
Seek additional help from any local historical societies. These organizations may have the funding and resources to aid you in preserving the building, and may have familiarity with the National Registry Application process. Individuals in these organizations may also be able to help you perform any research about the building or repairs that will maintain the building's historical integrity.
Step 3
Perform any necessary repairs to the building or property, but make sure that all work performed is up to state and local safety codes while preserving the building's historical integrity. Any work performed should maintain the building's historical style. Maintenance work should include wiring on buildings, cleaning the exterior and interior of the building or object and general landscaping. Repair rather than replace any degraded original work, decoration or fixtures. Keeping the building or object in good repair and as close to its original condition as possible will ensure that it is available for future generations.
Step 4
Contact your State Historic Preservation Office. If possible, include the property owner or a historical society in the application process. The application will require you to document the age and significance of the building or monument, so have the information you gathered in Step 1 readily available. The Office will direct you to necessary application forms and will evaluate your application once you have submitted it. The Office will also initiate a process of public review with your local government.
Step 5
Promote protection of the building in your area. Regardless pf whether your building is approved for the National Registry, local recognition of the building will ensure that it receives the attention it deserves and needs to maintain its original look. Ask your local library or city government building if there is a place where you can make the records gathered in Step 1 available to the general public so that others can learn about the building. Ensuring that others know about the building's significance means they will take care to keep it intact with repairs, landscaping and future construction.