A porch floor is more utilitarian than the one in the living room, but it doesn't have to look that way. A porch provides opportunities to use flooring materials you normally wouldn't use in the house, and some are downright striking. Available options depend on the nature of the subfloor -- stone and tile work best on a concrete pad, while wood works best on wood joists. You can even build a floor on sand.
credit:
Christopher Nuzzaco/Hemera/Getty Images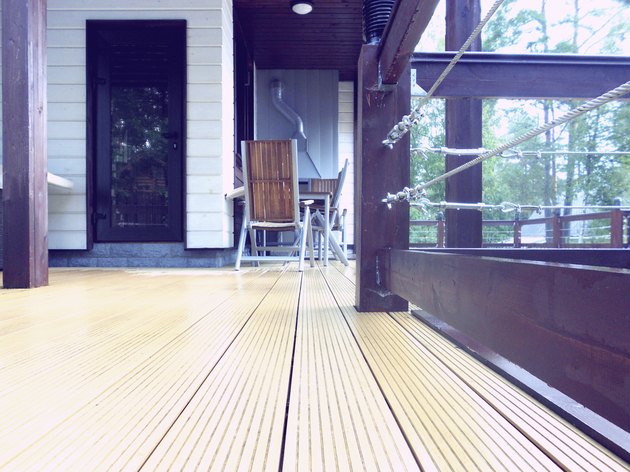 credit:
Dmitrri/iStock/Getty Images
Softwood isn't always the best choice for interior floors, but it works well for a porch -- especially a rot-resistant variety such as cedar and redwood. Besides being weatherproof, both of these materials boast mellow shades of tan and pink that form interesting patterns. Southern yellow pine is a common porch and deck material in the eastern states, and when pressure-treated, it's as weatherproof as any other wood, although you may need to spruce it up with a coat of paint. Durable hardwoods, such as ipe or mahogany, can be especially classy choices for a porch, although ipe is so hard that it takes a bit more effort to install than other wood species.
Dressing Up Your Concrete Pad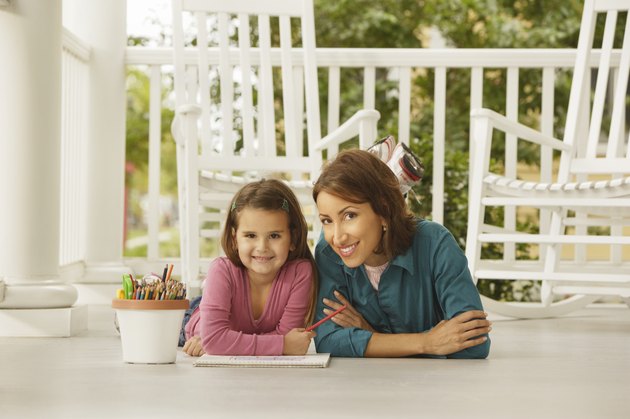 credit:
Mark Edward Atkinson/Blend Images/Getty Images
If your porch is built on a concrete pad, you may not have to look any farther than a paint store for an attractive finish. Two coats of latex floor enamel on an undercoating of floor primer, followed by two coats of clear polyurethane, make a long-lasting finish to which you can can add your own creative touch with inventive color choices. You can also cover your concrete pad with laminate flooring, but if the porch is exposed, it's safer to use luxury vinyl. This water-resistant material comes in click-lock planks similar to laminate planks, and it's manufactured in patterns that resemble wood or tiles.
credit:
zhudifeng/iStock/Getty Images
Slate and tile are two other possibilities for covering a concrete pad; either can also work on a properly supported and reinforced wood subfloor covered with a layer of cement board. Slip-proof textured tiles are preferable to smooth ones if the porch is exposed to rain; slate has a naturally textured, slip-proof surface. You have many color options when you work with tile, but you're limited to shades of gray when you choose slate. Fortunately, gray is a neutral color that you can successfully combine with just about any paint color or building material.
credit:
Aigars Reinholds/iStock/Getty Images
If your porch is at ground level and you haven't decided on a subfloor, you may want to consider laying bricks in a substrate of sand. This simple technique eliminates the need for a concrete pour, and it allows you to extend the floor outside the porch area onto the patio without much trouble. You need a solid perimeter constructed with brick, pressure-treated lumber or concrete to contain the sand, and you can lay the bricks end-to-end, in a herringbone pattern or a combination of patterns. Construct the porch roof and walls on posts.