Things You'll Need
piece of reclaimed wood

large chain

hammer

chisel

saw

sand paper

pencil

nails

wood glue

wall stud finder

mounting brackets

stain color of your choice

fire resistant wood sealant
Tip
You can have your local home improvement store cut the wood beam for you.
Warning
Wear eye protection and thick work gloves when cutting and distressing the wood.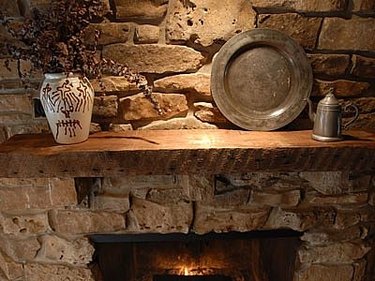 If you want to spruce up your fireplace, but don't want to spend a bundle of money buying a new mantle, consider making your own fireplace mantel instead. Making your own fireplace mantel is easier than you might think. Adding one piece of rustic reclaimed wood above your fireplace can give the room the warmth you're looking for. The new mantel will add character to any room and give you a special place to showcase photographs, pictures and objects. Here's how to make your own fireplace mantel:
Step 1
Find or buy a long beam (square or rectangular) of reclaimed wood and cut it to match the width of your fireplace. Keep in mind this will be a fireplace mantel you will display pictures and objects on, so one side should be completely flat.
Step 2
Cut a long strip of wood out of the back of the wood beam. The width should be at least half as long as the beam. The notch should be cut in straight lines (either a rectangular or angled notch). This 'notch' will help you securely mount the fireplace mantel later.
Step 3
Carry the wood beam outside to the street and beat it up. Drag it back and forth and throw it on the pavement. Roll it around and beat it with the chain. Hit it with the hammer sporadically across the surface. Dig into with a chisel to create small random grooves. This will give the fireplace mantel a rustic look when finished.
Step 4
Carry the wood back to your work area, sand down any rough edges and remove any splintered wood. Make sure all edges of the fireplace mantel are rounded or thoroughly sanded.
Step 5
Stain the wood beam the color of your choice. Apply two coats for a richer color and allow it to dry for several hours. If you prefer your fireplace mantel to look more rustic, you can leave the wood beam unstained.
Step 6
Screw a piece of scrap wood over the fireplace where you want the center of the mantel to be located. Make sure the scrap wood is the same size and depth at the 'notch' you created earlier.
Step 7
Use a pencil to mark the locations where the nails and mounting brackets will be attached, then screw them into the wall and beam. Use a level to make sure the horizonal measurements for the fireplace mantel are correct.
Step 8
Apply glue inside the 'notch' of the wood beam and slide the wood mantel over the piece of scrap wood already mounted over the fireplace. Be sure the mantel is also securely attached to the mounting brackets.
Step 9
Decorate the mantel with pictures, photos, candles, vases and other objects.