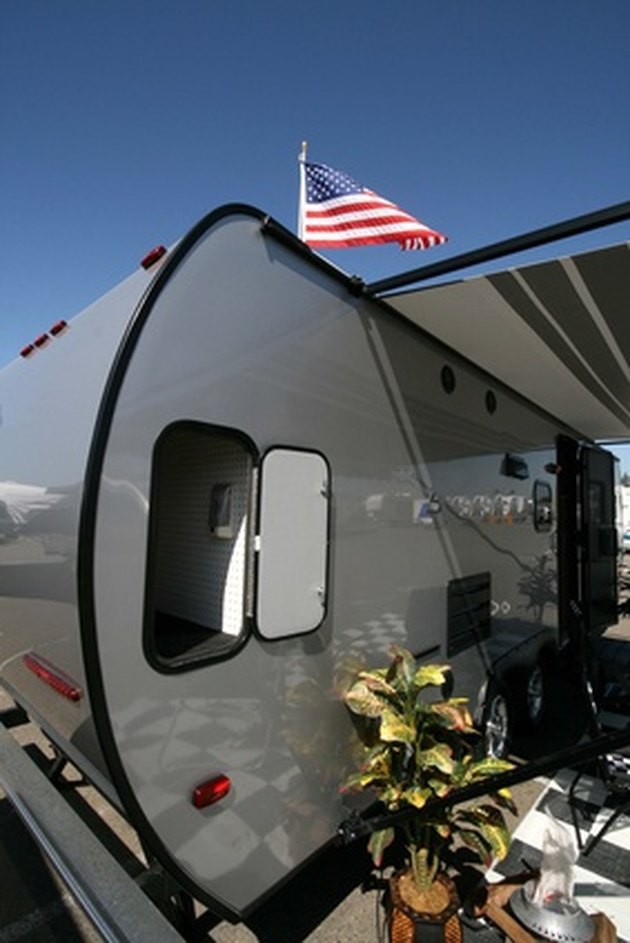 In the relatively small space of a recreational vehicle (RV) or motor home, making the most of a ceiling can help increase its interior's overall aesthetic value and functionality. You can incorporate some new features on to the ceiling or make it over entirely.
Resurfacing
Painting may not be a sufficient option to give your RV ceiling a new color or texture, especially if the ceiling is cracked, ripped or otherwise damaged. As an alternative, resurface or reupholster the ceiling with a new material. As the mobile home resource website GMC Motorhome News notes, some options include using vinyl panels or fabrics such as leather, suede and faux leather.
Headliners
Headliners are the miniaturized, RV equivalents of interior crown molding. They consist of narrow panels that surround the perimeter of the ceiling, separating it from the walls below. According to GMC Motorhome News, one of the most popular materials for RV headliners is lauan, or Philippine mahogany, a soft, reddish-brown, inexpensive lumber that resembles traditional mahogany.
Vent Covers
Vent covers are panels that you can use to cover RV ceiling vents. These serve two purposes: reducing the noise that the RV's air conditioner produces and replacing the unsightly vents with more aesthetically pleasing surfaces. While one idea is to use vent covers that blend seamlessly with the surrounding ceiling, an alternative is to use decorative or specially designed covers that portray flowers, sports items or cartoon characters.
Ceiling Fans
An RV with particularly high ceilings may be suitable for some small, traditional-style electric ceiling fans, complete with lights and exposed blades. Alternatively, you could install specialized RV fans, which have concealed blades and attach to existing roof vents.
Cleaning
Grease stains occur frequently in the kitchen areas of RVs and can be stubborn, unwanted additions to fabric ceilings. While an RV ceiling consisting of vinyl or other non-porous panels resists staining, only requiring that you give them a scrub with water or a standard domestic surface cleaner, an RV ceiling lined with carpet can pose a greater problem. As noted in the RV resource website RV Living, one solution is to go over the stained areas of the ceiling with a fabric roller, which will help pull up grease without spreading it around. In a pinch, you could also use duct tape to achieve the same results.
For a brown RV ceiling stain, which is the tell-tale sign of a leaking RV roof, make a paste of hydrogen peroxide and baking soda and dab it on the stained areas.
---
Erik Devaney is a writing professional specializing in health and science topics. His work has been featured on various websites. Devaney attended McGill University, where he earned a Bachelor of Arts in humanistic studies.