To get the maximum efficiency out of your furnace, you need a unit that is properly sized for your home. Understanding how to size your furnace is important because it helps you match your home with the ratings on each furnace label. When you understand how to determine the furnace size needed per square foot, you are better able to discuss your furnace needs with a professional contractor.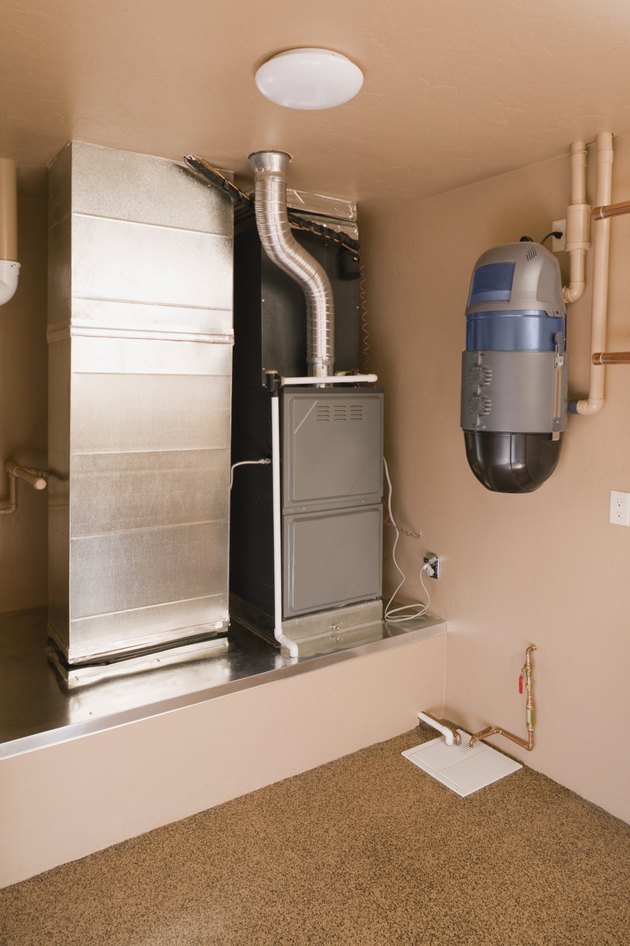 credit:
Jupiterimages/Comstock/Getty Images
The energy efficiency rating of a furnace is important because it tells you how much continuous use you can get out of your furnace at the coldest temperatures of the year without losing energy efficiency. A furnace that is rated at 92 percent efficiency can be run to 92 percent of its true capacity and still remain energy-efficient. The lower the efficiency rating, the more the furnace will cost you to run.
Furnace size is based on the BTUs of heat that your furnace needs to generate to combat the cold, which is referred to as the heating load. The areas that experience colder temperatures have higher heating loads than warmer climates. When you buy a furnace, you need to discuss the heating load for your specific area with the sales professional. But you can get a general idea of how large of a furnace you will need by using some regional heating load calculations. According to the AC 4 Life website, there are five heating load zones that start in the southern states and work their way north. The very southern states have a heating load ranging from 20 to 25 BTUs per square foot. Zone 2 moves slightly north of Texas and has a heating load rating of 30 to 35 BTUs per square foot. Zone 3 starts to move into Virginia and west towards Kansas and has a heating load rating of 35 to 40 BTUs per square foot. Zone 4 cuts down the middle of the country and has a heating load rating of 40 to 45 BTUs per square foot. The northern United States is zone 5 and it has a heating load rating of 45 to 50 BTUs per square foot.
Where your home falls on the heating load chart depends on how energy efficient your home is. If you have good attic insulation and windows that prevent cold air from passing through then you use the lower number for your region. If your home is not well insulated, then you use the higher number. To estimate your furnace size, multiply the heating load by the square footage of your home. That gives you the estimated size of the furnace you need for your home.
If you buy a furnace that is too large for your home, then it costs you extra money in several ways. A larger furnace costs more to purchase and install. A larger furnace takes longer to heat up and cool down, which means that it burns more energy than a smaller unit. A furnace that is too small cannot heat your house properly and leaves some parts of your home cold.