Things You'll Need
Paper towels

Hot tap water

Vinegar

Scrubby sponge

Dish soap

Baking soda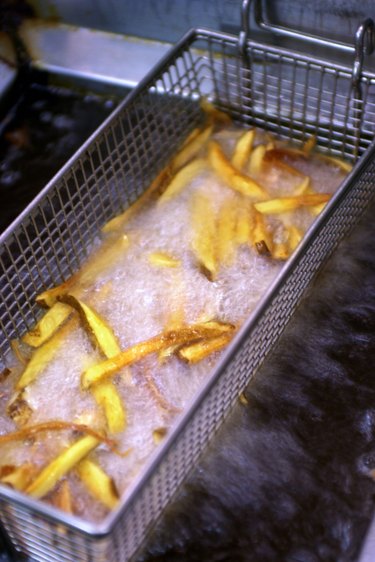 Fryer baskets can get a little dirtier and greasier than most of the things you use in the kitchen and probably anywhere in the house. These baskets are designed to be submerged in hot grease, which tends to cling over time and continual use. Between the grease and the oils within the foods being fried, when it comes to cleanup time, you can have quite a chore on your hands. Vinegar is one way to help loosen the grease without using harmful chemicals to clean the fryer basket.
Step 1
Wipe all grease off the inside and outside of the fryer basket with paper towels if your basket is coated in grease and food particles from a fresh batch of fried foods. Push harder to remove caked-on food buildup.
Step 2
Place the fryer basket in a sink or dish tub. Plug the drain if using the sink directly. Pour 9 parts hot tap water to 1 part vinegar into the sink or tub, filling until the fryer basket is fully submerged. Set the basket on its side if necessary to submerge. Allow to soak for 10 to 15 minutes.
Step 3
Scrub the fry basket with a nylon scrubby sponge -- the type used for cleaning nonstick pans -- and a little dish soap. Scrub until all food residue and grease has been removed.
Step 4
Pour a tablespoon or so of baking soda onto the scrubber if the caked-on residue is still hard to remove from the fryer basket. Scrub the residue with the baking soda applied to the sponge.
Step 5
Rinse the fry basket in clean water and allow to dry thoroughly on your dish drying rack. Dry with paper towels if you plan to use the basket right away.
Tip
If the buildup on the fryer basket is extremely thick or hard to remove, soak the basket in a stronger vinegar solution.
Warning
Do not place a wet fryer basket into hot oil, as the water and oil could cause a dangerous reaction, splashing hot oil outside of the fryer.
---
Kathy Adams is an award-winning writer. She is an avid DIYer that is equally at home repurposing random objects into new, useful creations as she is at supporting community gardening efforts and writing about healthy alternatives to household chemicals. She's written numerous DIY articles for paint and decor companies, as well as for Black + Decker, Hunker, SFGate, Landlordology and others.